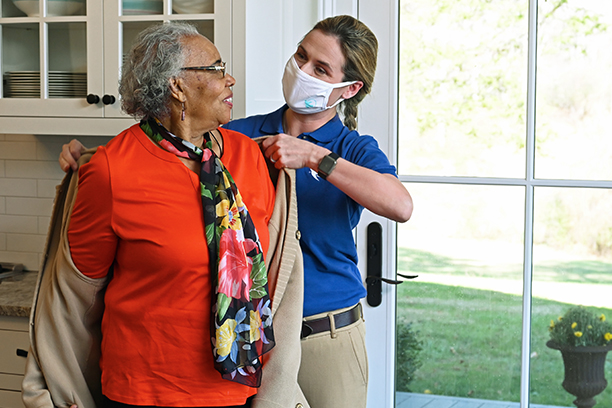 Visiting Angels Stockton: Providing Elder Care Services with Character in San Joaquin and Stanislaus Counties
At first, it may seem strange to welcome a caregiver into your home. That's why Visiting Angels makes sure our registered caregivers have the right experience and character to provide elder care services to seniors in Stockton, Tracy, Ripon, Lodi, Morada and surrounding areas in San Joaquin and Stanislaus Counties.
At Visiting Angels Stockton, we completely understand the anxiety and confusion that you may have. The perfect caregiver needs to be both professional and compassionate. Your loved one deserves to feel completely comfortable with their caregiver, and at Visiting Angels we strive to find the right caregiver for every client we have.
We spend an endless amount of time curating our family of professional caregivers in the Central Valley region. Each of our caregivers has been chosen because they have an extensive amount of knowledge and experience with providing in-home care for seniors. Also, they have been chosen because they put a dignified and respectful view of senior care at the forefront of their practice. They understand that there should always be a strong focus on the well-being and needs of their client.
"Visiting Angels has been very helpful to us. We have had a positive experience and have no complaints. Every staff member we have meet or spoken with has been professional, courteous and kind. We recommend Visiting Angels for any needs you might have."
- Steve P.
How We Help Seniors Find the Right Caregiver
At Visiting Angels, we don't just assign caregivers to clients. You will have the opportunity to interview a caregiver before they step foot inside of your home. First, we'll work with you to figure out your loved one's needs and wants. Then we'll curate a list of caregivers that we believe have the skills to provide the elder care services that your loved one needs. You'll then be able to ask them any question that may come to mind. You will be able to choose who you think will fit with your loved one the best.
The connection between a caregiver and their client is immensely important. In order to ensure a strong connection, we put immense time and effort into matching our clients with a caregiver.
Our caregivers are passionate about seeing our clients thrive throughout their everyday lives. We want your loved one to look forward to seeing their caregiver, so we'll do all that we can to match them with a caregiver that'll fit them in each and every way.
To begin the process of matching your loved one with a professional caregiver and get the elder care services you need, call our Stockton, CA office at 209-208-4132 at your earliest convenience.
Serving the Central Valley region including Stockton, Lodi, Tracy, Modesto, Manteca, and throughout San Joaquin & Stanislaus Counties
Visiting Angels STOCKTON, CALIFORNIA
3453 Brookside Rd #C
Stockton, CA 95219
Phone: 209-208-4132
Fax: 209-952-3901
HCO #394700004