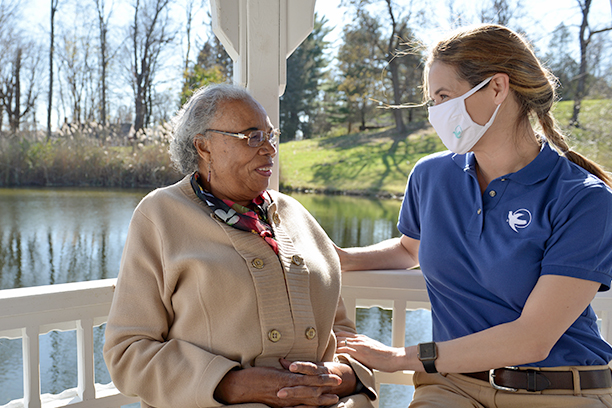 Learn About the Ready-Set-Go Home Program from Visiting Angels Stockton, the Leading Home Care Agency in San Joaquin County
After a senior parent or relative gets discharged from the hospital, it's important to make sure they don't get readmitted. The recovery process during the first 30 days after discharge is a crucial time for seniors; after all, seniors who get rehospitalized within the 30-day window have a lower chance of recovering. Since about 20 percent of elderly Medicare recipients end up back in the hospital within 30 days of being sent home, Visiting Angels Stockton has made it a priority to keep seniors home after being discharged.
Through our Ready-Set-Go Home program, we provide essential personal care to our clients during the transition back home and even after they return home. Our caregivers will help your loved one transition back home from the hospital and assist them with everyday tasks so they can focus on recovering. Our commitment to keeping our clients safe and comfortable at home has made us a trusted home care agency among families in Stockton, Tracy, Morada, Lodi, Modesto and surrounding communities throughout San Joaquin County and Stanislaus County.
"Each staff member was so caring of my dad. They were a great support in helping care for my dad after he was released from the hospital."
- James & Janet H.
How Our Home Care Agency Handles the Transition Back Home
Most seniors can avoid being readmitted to the hospital by following their doctor's orders as they recover at home. However, a serious injury or illness can make following medical directives extremely difficult for older adults, which is why it's important for your senior loved one to have outside support during their recovery.
Through the Ready-Set-Go Home program from Visiting Angels Stockton, we provide extensive in-home support to seniors in order to increase their chances of fully or partially recovering at home and avoid the risk of being readmitted due to complications. We will coordinate with your loved one's medical team and your family in order to create a transition plan and provide the care your loved one needs. Our home care agency believes in a personalized approach to transitional care, so you can have peace of mind that your loved one will receive the care they truly need.
We use a three-prong approach to transitional care, which includes:
While your loved one is still in the hospital, our caregivers will work with your family and your loved one's medical provider to create a transition plan that will help them return home after being discharged. We will help you understand what the discharge process entails and answer any questions you may have.
Once your loved one returns home, we will begin providing valuable in-home senior care to keep your loved one safe and comfortable during recovery. Our caregivers can also serve as an additional pair of eyes and ears and alert you if your loved one is showing any changes in their physical and cognitive health or isn't following directives from their medical provider. Seniors may typically skip follow-up visits with their doctor or miss medication doses, so we want to keep you informed at all times. If any of your family members are serving as your loved one's caregiver, we can help them feel less overwhelmed by the responsibility and provide some much-needed respite.
Our home care agency will provide additional support for your family and your loved one's caregiver. We have access to essential tools for reducing hospital readmissions, as well as helping us identify clients who are at a higher risk of being readmitted. Our staff can provide reminders for medication doses and doctor's appointments and coordinate medication, equipment and food deliveries. In addition, our caregivers can accompany your loved one to appointments to provide a caring presence.
If your loved one is about to be discharged from the hospital, contact our home care agency in Stockton, CA today at 209-208-4132 to learn more about our Ready-Set-Go Home program.
Serving the Central Valley region including Stockton, Lodi, Tracy, Modesto, Manteca, and throughout San Joaquin & Stanislaus Counties
Visiting Angels
STOCKTON, CALIFORNIA
3453 Brookside Rd #C
Stockton, CA 95219
Phone: 209-208-4132
Fax: 209-952-3901
HCO #394700004