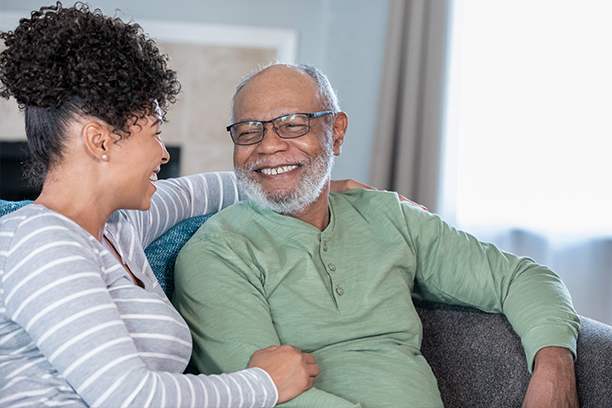 End-of-Life Care
The most difficult part of life that each of us will inevitably experience is the end of life. As such, it is all the more important for families to provide loving and compassionate end-of-life care for their loved ones during this difficult time to ensure they are as comfortable as possible – in familiar surroundings – with loved ones and friends.

At Visiting Angels St. Petersburg / Largo, we understand that caring for a terminal loved one can be both physically and emotionally overwhelming for families. We also understand that no one wants to be alone or in a facility when they are at the end stages of life. At Visiting Angels, we take pride in helping our clients stay home instead, in a familiar atmosphere surrounded by loving family and friends, with the support of a compassionate caregiver who is trained in end-of-life care.

As family members, we worry about leaving terminal loved ones alone and want someone to be at their side at all times to make sure they are well cared for and comfortable. This becomes especially important if we or other family members have other obligations or live too far away to help.

Visiting Angels can help clients and their families by referring professional caregivers to assist with the daily tasks of end-of-life care, thus allowing our clients to remain comfortably in their home during their last days, and giving their loved ones peace of mind.
What is End-Of-Life Care?
When a loved one is given a limited life expectancy, they may require assistance with end-of-life care and often, those responsibilities fall on close family members. End-of-life care services allow our clients to remain at home during their last days with assistance provided by a compassionate caregiver who can provide comfort, companionship, and assistance.

Our client-focused end-of-life care approach is centered on the physical comfort and emotional well-being of our clients, helping to alleviate feelings of loneliness, stress or anxiety.

End-of-life care services can help your loved one by providing:

Help with daily tasks


Bathing and dressing assistance


Grooming assistance


Medication reminders
s

Blood pressure checks


Toileting assistance


I

ncontinence assistance

Mobility assistance

Physical transfers

Passive exercise

Directional assistance

Healthy eating

Feeding assistance
Light housekeeping
… and more.

Clients can create a custom care plan to fit their individual needs and budget. Our referred caregivers can provide both comfort and companionship for up to 24 hours a day. And they can help with the daily tasks associated with end-of-life care at home or at a facility.

The end of life is an emotional time, but you don't have to go through it alone. Our referred caregivers can help you navigate this transition with the support, comfort and understanding it deserves.
At Visiting Angels St. Petersburg / Largo, we are proud to refer compassionate, experienced caregivers to families in need of end-of-life care in St. Petersburg, Largo and the surrounding areas. Our end-of-life care referrals help our clients stay at home instead, maintaining their dignity and comfort by living their last days in their own homes. If you or a loved one needs assistance with end-of-life care or any other home care services, please contact us – anytime day or night – for a free consultation.

To get started today, call 727-797-8600.

Visiting Angels of St. Petersburg / Largo
Providing quality home care and post-op care referrals for Pinellas County communities, including St. Petersburg, Gulfport, Pinellas Park, Largo, Seminole, Pass-A-Grille, St. Pete Beach, Treasure Island, Madeira, Redington, Redington Shores, Indian Shores, Indian Rocks & Belleair Beach.
Serving Largo and Metropolitan St. Petersburg, Florida
Visiting Angels ST. PETERSBURG, FLORIDA
944 4th St North #800
St. Petersburg, FL 33701
Phone: 727-797-8600