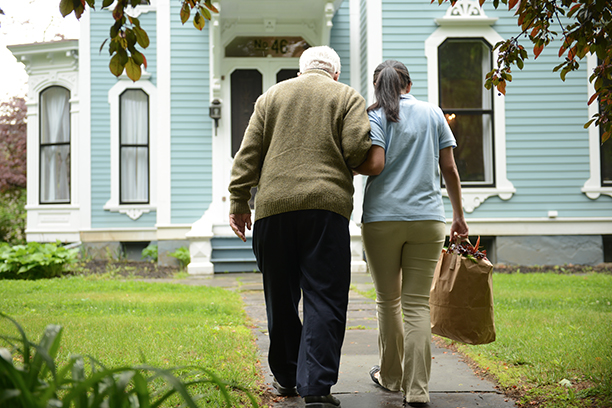 Our Character
In Home Senior Care in St. Petersburg
The best in home senior care depends on many factors. In home senior care services must be provided by experienced caregivers. Care providers must be skilled at meeting the needs of their clients. But that's not all. An experienced care provider who doesn't connect with their client simply can't provide the same level of care as one whose level of compassion is easily seen.
At Visiting Angels® St. Petersburg, we have a network of in home senior care providers who are known for being friendly, compassionate and respectful. The caregivers in our nurse registry are those who will go above and beyond the call of duty to meet their client's needs and provide a loving touch each and every day.
We understand the decision to hire an in home senior care provider can be fraught with anxiety and stress. You and your loved one both want someone you can be comfortable with. Inviting a stranger into your home for care isn't easy. The in home senior care providers we refer understand this and have the innate ability to develop deep, lasting relationships with their clients. They will put you and your loved one at ease the instant they enter your home.
The relationship between client and care provider is one of the most important aspects of successful in home senior care. If you aren't comfortable with your care provider, the quality of care will suffer. Because of this, we invite you to choose your care provider. We will provide you with a choice of caregivers who have the skill set you require. From there it is up to you. Meet with each one and let us know which caregiver you are most comfortable with.
The in home senior care providers in our referral network will put you at ease. Quality care with dignity, respect and compassion, it's the foundation Visiting Angels St. Petersburg is built upon. Call our office today for more information on our in home senior care referral services.
Serving Largo and Metropolitan St. Petersburg, Florida
Visiting Angels ST. PETERSBURG, FLORIDA
944 4th St North #800
St. Petersburg, FL 33701
Phone: 727-797-8600
30211274