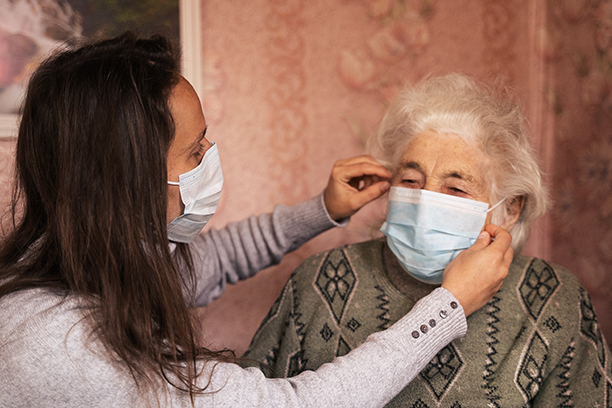 Personal Care
As we age, caring for ourselves becomes more difficult. Due to loss of balance and coordination, everyday tasks such as bathing, dressing, and household chores can become a challenge.
It may become difficult to bend over when dressing the lower part of the body, such as pulling up undergarments or putting on socks. One may not be able to button, snap or zip their garments, and daily hygiene – such as bathing or using the restroom – may require assistance.
Further, certain medical conditions can create the need for assistance from others for personal care needs. Often, those who need personal care are dealing with balance problems, arthritis, ALS, MS, Parkinson's, Alzheimer's, Dementia, a stroke, or other disabilities which may limit their ability to perform day-to-day personal care tasks.
If you or a loved one can no longer keep up with daily personal care tasks due to aging or deteriorating health, often the decision to move to an assisted living or retirement facility can seem like the only option. But at Visiting Angels St. Petersburg / Largo, our wide range of in-home personal care services can make it possible for our clients to remain at home instead, in familiar surroundings, providing peace of mind for both our clients and their families.
At Visiting Angels St. Petersburg / Largo, we understand that trying to care for yourself or a loved one with personal care needs can become overwhelming. As such, we can refer experienced caregivers to help with the tasks of personal care. Clients can create a custom care plan to meet their needs and budget, working with their long-term care insurance company.
What is Personal Care?
The need for personal care assistance may be temporary due to recovering from an illness or medical procedure. Or it may be a gradual, ongoing need due to the effects of aging on our bodies. Unfortunately, the process of aging slowly erodes our ability to maintain healthy activities of daily living without some assistance from others.
Often with aging, there is the fear of falling, mobility issues and more which make daily hygiene tasks like bathing a challenge. These same issues can cause us to reduce the time we spend up and about, causing decreased mobility and exercise. Becoming sedentary causes a gradual weakening of leg muscles, reducing the strength needed to get up and down, or even to stand or walk without assistance.
Personal care provides individuals assistance with the activities of daily living (ADLs), such as hygiene, dressing, grooming, oral care, eating, and mobility, all important factors in staying healthy and living productively.
At Visiting Angels, we can help by referring qualified caregivers to assist our clients with personal care services, giving both our clients and their loved ones peace of mind knowing they can maintain their independence at home
Personal care services can help our clients by providing:
Help with daily tasks
Bathing and dressing assistance
Grooming
Medication reminders
Blood pressure checks
Toileting
Incontinence assistance
Mobility assistance
Physical transfers
Feeding assistance
Advanced Alzheimer's care and Dementia care
Directional assistance
Passive exercise
Healthy eating
Light housekeeping
… and more.
As a nurse registry, our clients can interview and choose a qualified caregiver with the skills and personality that best suits their specific circumstances. Further, clients are able to try our services without committing to a contract.
At Visiting Angels St. Petersburg / Largo, we are proud to refer compassionate, experienced caregivers to families in need of personal care services in St. Petersburg, Largo and the surrounding areas. Our personal care referrals help our clients stay at home instead, keeping their dignity by living healthy and active lives. If you or a loved one needs assistance with personal care or other home care services, please contact us – anytime day or night – for a free consultation.
To get started today, call 727-797-8600.
Visiting Angels of St. Petersburg / Largo
Providing quality home care and post-op care referrals for Pinellas County communities, including St. Petersburg, Gulfport, Pinellas Park, Largo, Seminole, Pass-A-Grille, St. Pete Beach, Treasure Island, Madeira, Redington, Redington Shores, Indian Shores, Indian Rocks & Belleair Beach.
Serving Largo and Metropolitan St. Petersburg, Florida
Visiting Angels ST. PETERSBURG, FLORIDA
944 4th St North #800
St. Petersburg, FL 33701
Phone: 727-797-8600
NR30211274