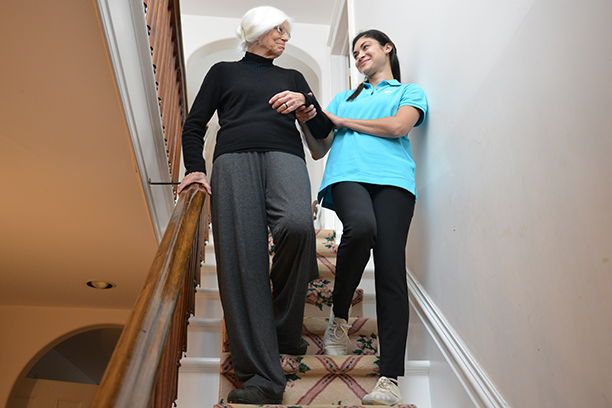 Alzheimer's FAQs and How a Visiting Angels Elderly Caregiver Can Assist Your Loved One in Stratham, NH and the Surrounding Area
Alzheimer's disease is a progressive, degenerative brain disorder that is characterized by memory loss, cognitive decline, and behavioral changes. Symptoms worsen over time, usually over several years, and can have a severe effect on performing daily tasks and activities.
If you have a loved one who has recently been diagnosed, you likely have many questions. This FAQ gives you answers from elderly caregiver professionals at Visiting Angels of Stratham. Learn more about Alzheimer's below.
What are the risk factors for Alzheimer's?
While scientists are still researching the exact cause of Alzheimer's disease, researchers have identified several risk factors.
The three biggest risk factors are as follows:
Advanced Age.

In most cases, symptoms of Alzheimer's disease begin after the age of 65.

Genetics.

Individuals with a family history of Alzheimer's are at higher risk of developing the disease themselves.

Heart Health.

Poor cardiovascular health increases one's risk. Individuals with a history of hypertension, high cholesterol, diabetes, stroke, or cardiac arrest will be at higher risk.
Other risk factors include
Sleeping problems

High stress levels

Heavy smoking

Heavy drinking

History of head trauma

Exposure to air pollution
What are the symptoms of Alzheimer's?
Most symptoms, particularly early signs of Alzheimer's, are expressed through a person's speech, thought patterns, and behaviors.
The most prominent symptoms include:
Short-term and long-term memory loss

Trouble solving simple problems

Uncommon struggles with day-to-day activities

Words forgotten or mixed up

Items lost more frequently

Confusion about current time or place

Confusion about the names and identities of people

Irrational, irritable, or depressed behaviors and actions
How does Alzheimer's disease progress?
Researchers believe the disease begins many years before people with Alzheimer's begin to show any indications. Symptoms typically start to appear in old adults, though some cases of Alzheimer's begin in a person's 40's or 50's. Alzheimer's is a gradual, progressive disease, with symptoms becoming worse over a period of years.
At first, symptoms will be mild and will have minimal impact on the person's well-being. As the disease progresses, symptoms develop from mild to moderate to severe. By the final stages of the disease, the person may lose all short-term and long-term memory, the ability to speak and to understand speech, and the ability to perform basic personal activities, such as how to use the bathroom or eat on their own. Learn how to prepare for the stages of Alzheimer's.
What are my loved one's options for Alzheimer's care?
One option for care is moving your loved one into a nursing care facility. However, this can be traumatic for individuals with Alzheimer's, and it is typically considered a last resort.
Another option is to hire Alzheimer's elderly caregiver services, such as those offered by Visiting Angels of Stratham. This specialized in home care helps individuals age in place with Alzheimer's disease.
Learn more about Alzheimer's elderly caregiver services offered by Visiting Angels of Stratham by calling 603-583-4890.
Serving the Seacoast of New Hampshire
Visiting Angels
STRATHAM, NH
118 Portsmouth Ave #B2C
Stratham, NH 03885
Phone: 603-583-4890