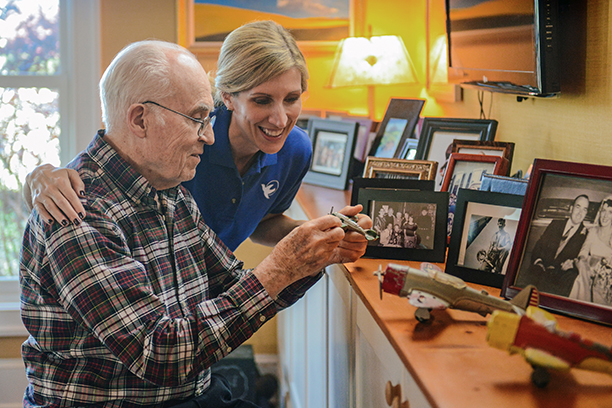 Senior Caregiver Job Description
Across the United States 3.5 million people are living alone and unsupported with dementia. 11 million have one form or another of COPD. Every 11 seconds, an older adult is treated in the emergency room for a fall; every 19 minutes, an older adult dies from a fall. These numbers are a fraction of the representation of the needs for the ever growing senior population. How can you help the community manage its newest emerging need? By applying for a senior caregiver job with Visiting Angels today! Visiting Angels holds its primary objective, duty, and mission statement across all positions with this company to be to aid the growing aging population to the best of our ability, knowledge, and availability.
Visiting Angels hold themselves responsible for a laundry list of requirements for a senior caregiver job. We hold ourselves to the standard of accepting your hard work, and rewarding that with a flexible and adaptable schedule to fit your needs. We accept your spirit to help our seniors in the community, and find it is our responsibility to train your skills to be on par with the spirit you bring to the job.
We take your career entrusted to us with this application, and hold ourselves responsible for making you a powerful candidate for any industry, and any position, you see yourself holding.
Senior Caregiver Job Instrumental Activities of Daily Living
Housework (sweeping, dusting, dishes, etc.)
Laundry (cleaning, ironing, and folding away)
Medication (medication reminders)
Preparing meals (cooking, opening containers, serving)
Helping with travel to doctor appointments, grocery shopping, etc.
Senior Caregiver Job Activities of Daily Living
Ambulation and Transfers (walking / getting around, getting in or out of bed, hoyer lift, shower chair, etc.)
Bathing (showers, baths, sponge baths, etc.)
Companionship (games, conversation, etc.)
Eating (help feed them, cut their food, buttering bread, etc.)
Senior Caregiver Job Personal Abilities
You must be 18 years or older
Have a considerate, generous, and sympathetic attitude towards others
Be able to communicate, as well as listen, clearly, fluently, and diplomatically
Maintain good physical and mental health, as well as have current TB testing
Meet all SC Background Requirements concerning theft, abuse, and drug incidents
Be a US Citizen or have evidence of valid Alien Work Permit
A Day in the Life of a Senior Caregiver
I have a passion for the elderly and caregiving is very rewarding. Helping someone that has once helped me and made the life we all have possible is the most satisfying part. Being a caregiver is not just a job, it is a lifestyle and you have to be very adaptable and understanding. Compassion is an important trait to have because my clients need to know they are valued and loved. I love knowing that my clients look forward to seeing me and that I can put a smile on their face.
Being a caregiver is a job that comes naturally to me. I love the opportunity every day to put on my scrubs and go visit my clients, knowing that I am making a true difference in their lives. In fact, this isn't just a caregiving job for me, this is a career path that I never expected to go down, but I am so thankful for the positive changes it has made in my life. Visiting Angels give me opportunities to grow and learn every day, not only from the office team, but my clients as well. I have a better understanding of the senior home care industry and how I have become an important part of it!
I have always been a people person, so conversing with others is something I always look forward to, but being able to help someone do something in their daily life they may not be able to do without me there is a very humbling experience. Being a caregiver means to me that someone is counting on me to be there for them, and this is something I can do with confidence because of Visiting Angels. Visiting Angels has given me a lot of training that I can put to use every day, which reassures my client that I am a great fit to be their caregiver.
Senior in-home care is a side of this industry that isn't thought of as often. Most people think senior care involves a building where people go, but in this case, Visiting Angels comes to you, in the comfort of your own home. I love the opportunity to build that one-on-one connection with my clients, in an environment that is comfortable, and safe to them. Senior companionship is one of the most important parts of the job, but also a very rewarding thing for me as well. It is an opportunity to put aside the busyness of the day and just make a connection with my client. We talk about their accomplishments earlier in life, their families and whatever else makes them happy. I have the greatest opportunity to learn about them, just in conversation. That connection we build gains trust and gives me the chance to do my job to the fullest. With out that bond, I wouldn't be as great of a caregiver, making an impact on my clients lives.
What is important to me before I leave my shift, is that I made a difference in my clients lives. I want my clients to be happy, to feel like someone is really looking after them. I want my presence in their home, and in their lives to be something they will look forward to the next time we see each other.
Visiting Angels gives me the chance to make a difference in the lives of seniors in my community and a purpose for myself. I don't have any idea what I would be doing if it weren't for my caregiving job with Visiting Angels. The training that is provided to me gives me the confidence to do my job to the fullest, and the support from the office team makes me truly feel like the way I care for my clients, reflects in how they take care of me. The office team takes into consideration my schedule and gives the flexibility I need, when I am available to work.
If you are thinking of applying for a Senior Caregiver job with Visiting Angels and are interested in making a difference in the lives of seniors in our community, look no further. Visiting Angels is the career path for you to take, and trust me, you'll be glad you joined the family!"
Serving Dorchester County and Surrounding Areas
Visiting Angels
SUMMERVILLE, SC
211-A Stallsville Loop Rd
Summerville, SC 29485
Phone: 843-285-5155
Fax: 843-419-6250