Dementia Care in Oklahoma City: How To Help When They Say They Want To Go Home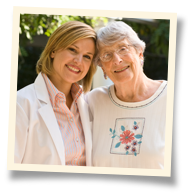 Caring for a loved one with dementia can be emotionally and mentally exhausting. Family caregivers tend to overestimate what challenges they can handle and sometimes get tripped up over the small, unexpected things. One such thing common to dementia care is the frequent request to be taken "home" despite perhaps already being there.
At Visiting Angels® Southwest Oklahoma City we know how upsetting this can be for both the patient and the family member. We've compiled a list of tips you can use to navigate this situation with relative ease.
Tips For Requests To Go Home
Acknowledge and Reassure. Always recognize your loved one's request. Don't try to ignore them. They may not understand a lot of things these days, but they definitely know when they're being ignored. So acknowledge their request and then reassure them you are going to take them home.
Distract and Redirect. Set up a scenario that involves completing a few steps before you can "leave." For example, you need to wash some dishes first or find your purse. One of the best suggestions is to ask for their help with a small task like folding washcloths. Once engaged in the task, you can then try to distract them further through conversation.
Ask about their home, the yard, their parents, siblings, aunts, uncles--basically, anything about a happy time in their past. Past memories are the last to go, so reminiscing about these things and allowing your loved one to feel as if they are reliving those days will ease their anxiety level tremendously and, paradoxically, help ground them in the current moment.
Resist the temptation to use reason or logic! It may occur to you that simply explaining to your loved one that their house is sold or that they already are home will be the logical answer. This would actually be extremely anxiety-provoking for them and should always be avoided. The ability to reason through situations is one of the first cognitive functions to be lost in dementia.
Consider hiring one of our local Oklahoma City area dementia care professionals. Caregivers who specialize in essential personal care like dementia care can provide the one-one-one dedicated attention your loved one deserves. When you can't be there, our caregivers can, so your loved one never goes without meaningful interaction and supervision.
Local Oklahoma City Dementia Care
At Visiting Angels Southwest Oklahoma City, our caregivers are fully vetted and selected from among the area's most compassionate and qualified local professionals. We serve families in Oklahoma City, Norman, Moore, Mustang, Blanchard, Tuttle, and the surrounding area.
To learn more about how our dementia care services in Oklahoma City can help your family, please call Visiting Angels Southwest Oklahoma City today. We'll come out and conduct a free, in-home consultation for essential services, without delay.