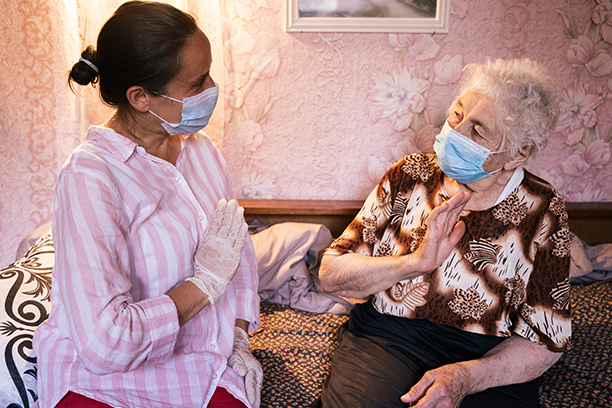 Long Distance Elder Care in Tallahassee
How Elder Care Can Help Your Family Find Peace of Mind
When you live hundreds of miles away from a loved one, it can be difficult to understand their elder care needs and figure out a way to ensure those needs are met. By partnering with a high-quality senior care agency like Visiting Angels® Tallahassee, you can arrange for your loved one to be cared for at home by a professional caregiver.
At Visiting Angels Tallahassee, we're used to working with long distance families and understand the specific challenges they face when arranging care. You can count on our team to provide you with guidance and support as you determine the best senior care solution for your loved one.
More About Our Long Distance Elder Care in Tallahassee
In this day and age, it's not uncommon for seniors to live far from their immediate and extended family members. As it's easier than ever to keep in touch with the people we love, living in different communities doesn't prevent us from maintaining close relationships.
However, this situation can become more difficult when a senior encounters age-related issues. Arthritis, mobility limitations, and memory disorders can all make basic activities of daily living a struggle. The physical presence of a caregiver is typically required to assist the senior as they go about their day-to-day life at home. In addition to providing support with tasks like bathing, dressing, and preparing meals, a caregiver can also prevent the circumstances that lead to senior isolation.
Even if you reside in a distant city or state, we can help you set up at-home care for your loved one. Simply get in touch with our office, and we'll take the following steps to assist you with arranging care from afar:
Answering your questions about our services by phone or email
Conducting consultations with other involved family members
Setting up a one-on-one visit with your loved one
Designing a detailed care plan consisting of the services your loved one needs
Choosing a caregiver from our talented team to deliver these at-home services
Providing your family with regular updates throughout the caregiving process
Notifying you immediately in the case of significant or sudden changes
Performing frequent check-ins to ensure the safety of the care recipient
Maintaining an after-hours phone line where long distance families can always reach us
Could our long distance elder care program at Visiting Angels Tallahassee be the right fit for your loved one's needs? Learn more about what we offer for seniors in Tallahassee, Miccosukee, and nearby communities by contacting our office today.
Serving Tallahassee and the Surrounding Communities
Visiting Angels in Tallahassee, FL
2344 Centerville Rd Suite 105
Tallahassee, FL 32308
Phone: 850-320-6062