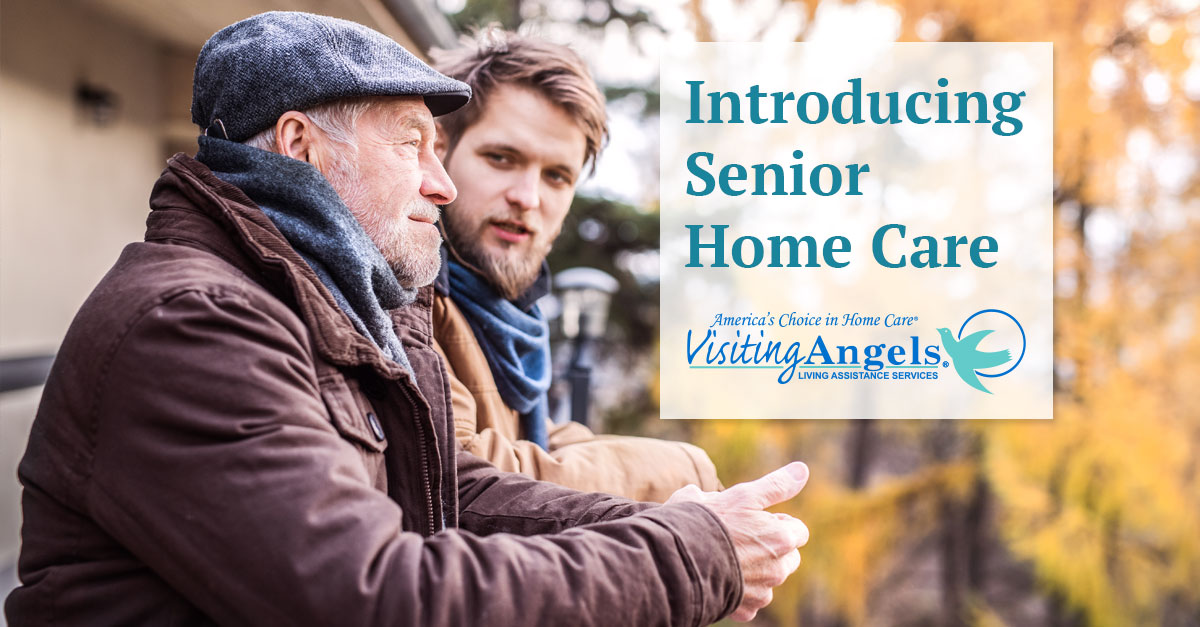 How to Introduce the Idea of Senior Home Care to a Loved One
Introducing the idea of Senior Home Care to a loved one can be tough. Seniors are often reluctant to admit they need assistance, or understandably can be afraid of accepting help from a caregiver. That's not to mention the complexities of the conversation; power dynamics, pride and fear all come into play.
But making decisions is an important part of the road ahead. Senior home care can improve life for the entire family, helping you all to thrive.
We've seen how to introduce the idea of senior home care and how not. Here's some advice:
Prepare Yourself
Prepare your mindset and think about how you're going to approach the conversation. If the idea is likely to be met with reluctance, then accept that you might need to be patient and anticipate sensitive reactions.
Also, it can be a delicate subject for your own emotions. Think about how your parents might react and what you can say in response to their questions. Research what Senior home care is and how it can help so you can put any doubts to bed.
Pick The Right Time to Introduce Senior Home Care
The worst thing you can do is to introduce senior home care to a loved one when tensions are high. Avoid bringing it up during emergencies or as a knee-jerk reaction.
The best times to talk are often when your loved one is calm and likely to take the news maturely. Consider introducing senior home care casually when they're relaxed, sharing a drink or meal, or while on a walk.
Assess Their Needs
Throwing 'senior home care' at a loved one can trigger all sorts of misconceptions. Instead, assess how and where senior home care can help your loved one in their day-to-day life:
Take notes of where your loved one struggles with their day-to-day life.
What risks face your loved one?
Consider asking your loved ones about what they need help in their everyday life or what stresses them, worries them or affects them.
Introduce Senior Home Care Casually
One approach that is often used is to avoid a big heavy conversation and slowly introduce the idea of senior home care casually. Slip hints in here or there.
For example, "Mom, it could be helpful to have someone help you do the groceries" or "I've read about professional caregivers that can take care of your meals every day so that you can relax."
Make It Clear Independence Is a Priority
One of the best things about senior home care is that it allows seniors to remain in their own homes. Many people hate the idea of nursing homes. Over 80% of home care patients choose to do so in their own homes. Stressing to your loved ones that senior home care allows them to retain their independence at their own home can go a long way to showing a positive when all they can think of is negatives.
Make the Benefits Clear
Make the benefits obvious. Your goal is to let your loved one know how they can improve their life; How they can be safer, happier and more at peace - in their own home. Let them know that they have the power to decide what they need help with from in-home caregivers and that it will improve their life.
Focus on the benefits, not the limitations.
Be Honest If You Need Respite
Senior home care and respite care are not always solely about seniors. Family members turn to it to help reduce the burden of caregiving. If caregiving has become too much, let your loved one know you need a helping hand. Let them know if you're scared about their safety. Whatever it is, be honest because your opinion matters too.
Tip: Make sure you don't guilt-trip them. Rather, let them know you can't be there all the time and that you wish your time together could be more enjoyable rather than caregiving-focused.
Ask Others to Help
Inform trusted family members, doctors or family attorneys about the idea. They can help bring a level of comfort to the topic. However, avoid keeping secrets or doing this before you speak to your loved one. Honesty and open dialogue is the key.
Give Examples
If you know anyone who has benefited from senior home care, use them as an example. This is especially helpful if your loved one has a friend who they respect or would trust.
Give Senior Home Care a Try
A little further down the line, once the idea has been discussed, you can propose testing senior home care. Often the biggest hurdle is getting started. It can be a strange concept after decades of independent life.
If they're willing, give it a trial run. Maybe with just small steps at first - meal times or errand assistance, for example. In many cases, seniors can quickly realize the benefits of senior home care. Or, if they're still reluctant, they'll be ready for it when they realize they need it.
Example Scenarios of Introducing the Idea of Senior Home Care
Scenario: You're concerned about your loved one's driving. They get lost or have near misses.
"[Trusted friend/neighbor] might be able to drive you to the store next time, or a caregiver. They'd make things easier. You could tell them where to go and they'd help out."
Scenario: You've noticed your loved one struggling with eating or cooking.
"I've read about professionals who can drop by every night to help out with meal times. I don't have the time to do it every night, but they could make life easier. You can tell them what you'd like them to prepare. You'd be in control."
Scenario: You're tired and overworked from caregiving.
"I've been thinking about looking into someone else taking care of the dirty work in the house. I'd love to spend quality time with you again. It would be great to visit like that. What do you think?"
Scenario: Your loved one's household chores are getting out of hand.
"We could get someone to take care of all of that. There are professionals who would be happy to do the chores and what else you need them to, so you can relax. What do you think? Could we give it a try?
Scenario: Your loved one frequently gets lonely and it's becoming a problem.
"My friend's Mom has a caregiver visit her every afternoon. She also hated the idea of a nursing home. They play games together or have a chat. I think they also do the dishes. Would you be interested in that?"
Senior Home Care Services in Tampa, FL
If you're interested in senior home care in Tampa, FL, for a loved one then contact Visiting Angels today. Whether you're ready to get started or would like to learn more, we'll be happy to have a conversation with you or your loved one.
You can call us at 813-909-2550 today.