Alzheimer's Care in Temple: When is it Time?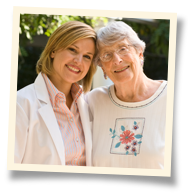 Has your loved one in Temple been diagnosed with Alzheimer's disease? With news like this, you may have trouble processing what steps you need to take next. One of your main concerns may be arranging care for your loved one. At Visiting Angels® Temple, we offer at-home Alzheimer's care services for elderly adults living in Temple, Belton, Killeen, Harker Heights, Salado, and nearby communities. These services support seniors as they cope with the symptoms of Alzheimer's and dementia and give family caregivers peace of mind and relief from their duties. If you're unsure about the best time to get started with a professional care provider, read on for our recommendations.
Indicators of a Need for Alzheimer's Care in Temple
There are several signs that indicate your loved one could benefit from working with an Alzheimer's care provider from Visiting Angels Temple. Take a look at just a few of the signs you should keep an eye out for:
Problems with mobility. Seniors often face mobility issues during the late stages of Alzheimer's disease. A caregiver can help your loved one get around more easily and provide support with important activities like bathing, grooming, and getting dressed.
Memory issues. Memory impairment can have a number of negative consequences, including medication mismanagement or missed doctors' appointments. A professional care provider can step in with crucial reminders to ensure your loved one stays on track with his or her doctors' instructions.
Wandering tendencies. It's not uncommon for elderly adults who have been diagnosed with Alzheimer's disease to attempt to wander off. Since it can be difficult to maintain constant supervision of your loved one 24/7, it's a good idea to get assistance from an at-home senior care provider.
Overwhelmed family caregivers. Are you feeling overwhelmed or stressed out by your loved one's increasing needs? Caring for someone with Alzheimer's can be exhausting, and it's critical to your well-being that you pencil in some time off. Our care agency can ensure that you get the respite and relief that you need to avoid caregiver burnout.
Social isolation. Limited opportunities for social interaction can result in senior isolation, which takes a toll on seniors' physical and mental health. Our compassionate caregivers are ready to engage in conversation and provide emotional support so that you loved one can ward off feelings of loneliness and isolation.
Contact Visiting Angels Temple today for details about scheduling a free Alzheimer's care consultation in Temple, Belton, Killeen, Harker Heights, Salado, or a town in the surrounding areas.