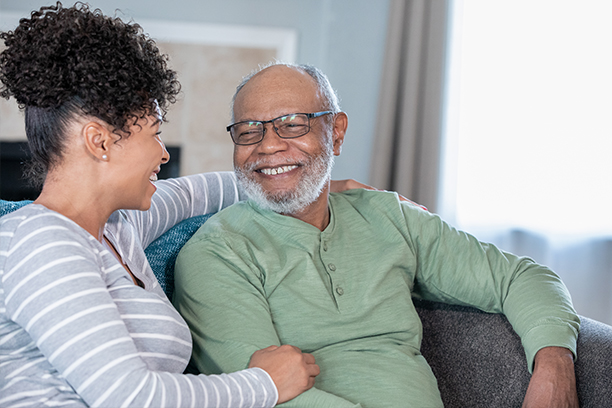 Home Care Providers in Terre Haute
When you partner with Visiting Angels® Terre Haute, you'll have access to compassionate home care providers who can assist your loved one with their age-related needs. Our caregivers deliver personalized assistance for elderly adults who want to remain at home even while dealing with difficult conditions and circumstances. We're honored to have the opportunity to match seniors in need with care providers who can offer the specific services they require to live safely and comfortably at home.
Seniors across the Terre Haute area can enjoy the benefits of working with our professional caregivers, including those in Brazil, Carbon, Cory, Judson, Rockville, and nearby towns. Our care providers won't only help your loved one with basic activities of daily living. They'll also provide the compassionate companionship and emotional support your loved one needs to maintain their overall well-being.
How Our Home Care Providers Assist Seniors
We aim to bring the very best home care professionals in the Terre Haute area onto our team of caregivers. These individuals understand the difference they can make in the lives of their clients. By delivering customized care with a respectful attitude, our care providers make it possible for seniors to preserve their dignity and independence as they age in place.
Our team believes physical assistance is only the beginning of the care process. They go above and beyond to address seniors' full range of needs, providing the social interaction and conversation many seniors miss out on as they begin to lose their mobility. This not only helps elderly adults feel seen and socially connected, but also prevents the heart wrenching effects of senior isolation.
Thanks to their commitment to establishing lasting relationships with care recipients and family caregivers, many of our care providers become like family to their clients. During challenging life chapters, seniors and their loved ones know they can turn to our team for support.
Choosing Your Home Care Provider in Terre Haute
Our care coordinators will work closely with you and your loved one to select the right care provider for their situation. We'll even meet with you both for an obligation-free consultation so you can get a better idea of our approach to care. Once we've gotten to know your loved one, we'll choose a caregiver from our team who can accommodate their needs and begin building a relationship based on mutual trust and respect.
Learn more about the services our home care providers offer today. Simply contact Visiting Angels Terre Haute to schedule your free consultation.
Serving Terre Haute and the Surrounding Areas
Visiting Angels
TERRE HAUTE, IN
1452 S 25th St
Terre Haute, IN 47803
Phone: 877-334-1531
Fax: 765-848-1046