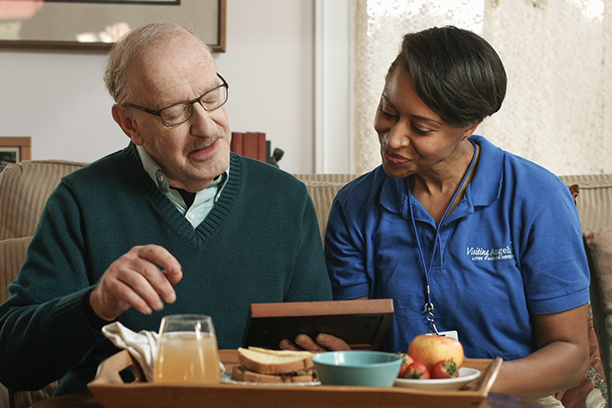 Dementia Care in Cook County
How to Answer 'I Want to Go Home'
Caring for a loved one who's living with dementia can sometimes put you in strange situations. Often, your loved one may say something that doesn't quite make sense, where you're not sure how to respond. At Visiting Angels® Tifton, our dementia care team has strategies for handling these moments. But for families in Cook County, it may feel like these situations have no right answer.
One example is when a loved one tells you that they want to go home—despite the fact they're already there. If you're unsure how to handle this situation, here are three tips from our dementia care team in Cook County that may help.
Responding to 'I Want to Go Home' - Tips from Our Dementia Care Team
1. Offer an Affirming Response. Rather than telling your loved one they're already at home, it's better to offer an affirming response. If your loved one doesn't think they're at home, they'll only become more stressed and confused if you tell them they're at home already. Instead, simply tell them that going home sounds like a good idea and that you'll start getting ready to leave soon. This will give them comfort while also buying you some time.
2. Focus on the Underlying Issue. If someone with dementia says they want to go home, it's usually because they're usually feeling tired, disoriented, anxious, or stressed. As a caregiver, you'll want to focus on making your loved one more relaxed and comfortable. Use a relaxing tone and body language, talk about subjects that bring them comfort, and try to remove sources of stress.
3. Redirect Their Attention. The best way to resolve 'I want to go home' situations is to redirect your loved one's attention so that they're focused on something else. Here are a few ways to do this:
Ask them for help with a small housekeeping task, like tidying up the table.
Wait a moment and then put on one of their favorite albums, movies, or TV shows.
Ask your loved one to tell you about subjects they find joyful or comforting.
Our Dementia Care Services in Cook County
If you're worried about a loved one in Cook County who's living with dementia, Visiting Angels Tifton can help. Our dementia care services make it possible for individuals with dementia to live at home safely and comfortably. We also offer much-needed support to family caregivers.
Visiting Angels Tifton offers in-home dementia care services in:
Cook County
Tifton
Ashburn
Cordele
Vienna
Unadilla
And the surrounding areas
Contact Visiting Angels Tifton today to request a free dementia care consultation for your loved one in Cook County.
Serving Tifton and the Surrounding Areas
Visiting Angels TIFTON, GA
311 12th St West #5
Tifton, GA 31794
Phone: 229-392-9269