Home Care Services in Johnson City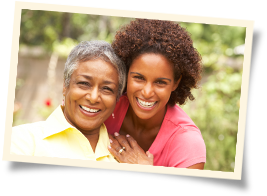 Determining whether to seek outside help for home care services for your loved one in Johnson City can be stressful and confusing. Perhaps you're ready to reach out but your family member seems reluctant and nervous. This is very common.
You will probably be reassured to know that in most cases, even the most reluctant senior, when matched with a caring, qualified and compassionate caregiver, will quickly come to rely on and genuinely enjoy their visits.
Every situation is unique, of course, but in general, some signs that might indicate it's time to consider home care would be:
Your loved one is experiencing health or mobility issues
Your loved one is having difficulty keeping up with daily activities or chores
You suspected they may be suffering from, or they have already been diagnosed with dementia
Your loved one is doing fine but family caregivers need a respite
One of your parents is no longer able to care for the other
At Visiting Angels® Tri-Cities, we can help you assess your loved one's situation in detail, free of charge. We provide a no-cost, no-obligation, consultation with you and your loved one in the comfort of their own home (or yours). We will also provide a complimentary fall-risk assessment during this visit and provide tips for avoiding this all-too common form of injury.
Available Home Care Services in Johnson City
Since our home care services are custom-designed around the specific needs of your loved one, it's nearly impossible to provide an exhaustive list of tasks we can assist with. However, here are some of our most commonly requested care services:
Dignified and gentle bathing & dressing
Housework (laundry, vacuuming, dusting, bed change, and more)
Meal prep
Eating
Medication reminders
Social outings
Errands
Doctor Visits
Upbeat conversation and/or empathetic listening
And much more
At Visiting Angels Tri-Cities, we are honored to provide our home care services to seniors in the following nearby locations:
Johnson City
Kingsport
Gray
Bristol
Blountville
Colonial Heights
Watauga
And the surrounding area
The Benefits of Our Home Care Services in Johnson City
Experts agree when possible, home care services tend to provide a greater sense of well-being and better health outcomes than institutional settings. Now, more than ever, in-home care, also known as "aging in place" is being promoted by organizations such as the World Economic Forum and the National Institute of Health as a safer and less expensive option for seniors.
Visiting Angels Tri-Cities is actually a locally owned and operated home care provider. Our local staff and caregivers are recruited, screened, and trained to uphold the highest standards of care. Just as importantly, we recruit and place based on personality traits that ensure compatibility with your loved one.
Our administrators will check in with your family member by phone or in person to ensure their continued satisfaction with their home care. We will also provide regular updates to you and whomever you choose regarding your loved one's health and mood.
If you would like more information about our home care services in Johnson City, call Visiting Angels Tri-Cities today and schedule a free in-home consultation at your convenience. Our local team is always ready to help.