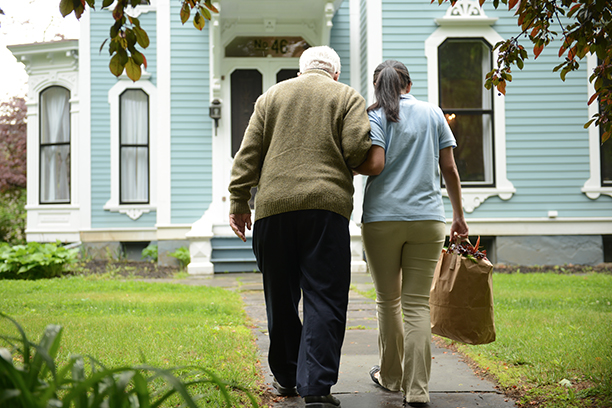 Caregiver Reviews & Testimonials
Awesome company to work for. They really support their employees. They also go above and beyond to ensure our clients receive all the care they need. Not only do the clients get a caregiver assigned to them to help with their needs they also have a case manager who calls on them periodically to make sure they are getting all the help they need. Highly recommend this company for any person no matter what age who needs in home care assistance.
-Monica F., March 2023

---
The training was perfect because you learn more about how to take care of the residents. It shows you what you are supposed to do.
- Adalaide J., January 2020

---
Online training has helped me to be a better caregiver, and it helps me correct mistakes I make.
- Lisa B., February 2020

---
She explained steps from the beginning to the end. It is very simple but easy to understand. She answered all questions. She has patience.
- Winfred C., February 2020

---
The videos were excellent, and the training was great.
- Jacqueline H., April 2020

---
Making a difference in someone's life is very rewarding. Some clients need household help, others may need hygiene help. Taking someone for a car ride that never gets out means so much to them. Helping with simple tasks that are a chore for them and they smile or their spouse smiles. That's what makes it all worthwhile. I love being someone's Angel.
- Robin N., July 2022

---
Brittany makes sure that we know what the expectations are and that it is clear.
- Guadalupe G., June 2019

---
I liked that the interview itself went really well, and I could feel the compassion of the person that was interviewing me.
- Lisa B., July 2019

---
The training covers everything. It helps me feel more prepared.
- Maria T., September 2019

---
I liked how they spoke to us and explained everything. It wasn't rushed, and I understood everything. Sometimes when you're foreign, it's nice to hear someone that speaks slowly.
- Beauty C., October 2019

---
Our training is up-to-date and current information. It is very pertinent to the job I do as a caregiver. It is also available online.
- Carol M., October 2019

---
They give you as much training as you would like to receive.
- Hannah T., November 2019

---
I have been working for Visiting Angels since 2018 and I love it so much. It really is amazing to work among compassionate, caring, hardworking people. Love my Visiting Angels team!!
- Abby R., May 2021
---
The training was good because they listened and answered my questions.
- Yolanda C., January 2020

---
My babysitter couldn't take care of my sick kids, so I had to call at the last minute, which I hate to do. I was afraid when I called but they called back saying they had coverage and said they were hoping my son feels better.
- Winfred C., February 2020

---
I am currently employed by Visiting Angels in Tucson. Working with this company has been such a terrific opportunity for employment, but more than that, the people within the Visiting Angel's community have become my family and friends. It is my one-year anniversary with the Angels. I'm looking forward to many more to come!
-Suzanne Q., June 2020
---
They double check your schedule for you and call you back. They have great communication.
- Edith B., February 2020

---
They really help me by calling me and asking me if I am satisfied with my client.
- Amani N., February 2020

---
Extremely flexible with scheduling. Always kind and compassionate!
-Sandy L., April 2023
---
I get a lot of support from all of the people in the office. It's not like I'm all alone. There's always someone there for you.
- Luz V., March 2020

---
They are excellent. If I have any questions or any problem, I can call them, and they will be right there. They are always friendly, respectful, and helpful.
- Lee J., April 2020

---
Any time I need a shift I can call, and they are helpful giving them to me or answering my emails.
- Mariah J., April 2020

---
I like their philosophy and how they pair the clients with the caregivers. They're always willing to work with the needs of the employee.
- Anonymous Caregiver

---
They are flexible and provide anything I need for my job.
- Becky T., Caregiver

---
Everything set up via the app on your phone so you can pick up shifts, get information, and have great communication in a timely manner.
- Carol M., October 2019

---
We talk over the phone. They call me when there is a client, and they tell me everything about the client.
- Anonymous, October 2019

---
They put texts out for us and let us know if there is a substitute caregiver coming to replace us. We can walk in, and they know our name. They ask how our day was, and they are very kind and courteous.
- Melissa L., October 2019

---
They are very helpful. I got lost, and they understood that. A lot of people could have gotten mad, but they didn't.
- Yvonne P., October 2019

---
No matter what, if you haven't picked up a shift in a couple of days, they call to see how you are. They worry about me and make sure I'm doing okay. They communicate well with each client so that we know what they need.
- Hannah T., November 2019

---
I love this company. They work around my schedule, and sometimes I can say when I want off. They say they'll see what they can do, and they work around it. I even took a month off. It's so great.
- Virginia S., November 2019

Serving the Greater Tucson, Green Valley and Sierra Vista Areas, AZ
Visiting Angels
TUCSON, AZ
7564 N La Cholla Blvd
Tucson, AZ 85741
Phone: 520-579-0099