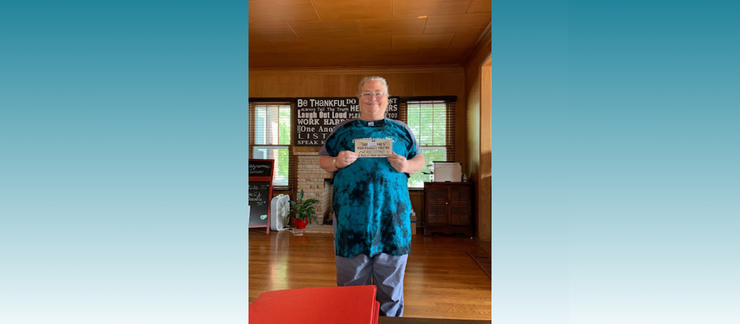 A Day in the Life of a Visiting Angels Caregiver
Working as a professional caregiver is a rewarding line of work, especially with a locally owned and operated home care agency like Visiting Angels. Angelia, a caregiver with Visiting Angels for shy of a year, shares her experience with the company and clients.
Building relationships with clients
Angelia worked in the oncology unit of a hospital as a CNA for nine years before transitioning to home care and, eventually, Visiting Angels. Her first Visiting Angels client, who she still works with today, is a man who instantly built a connection with Angelia and pleasantly refused to work with another caregiver because of the trust and bond they have created.
"He doesn't want anyone to do anything for him but me," laughs Angelia. "I'm like, 'come on dude, don't make me do all the work,' but it's a good thing when you have a client like that. You've been with them for a while, and they trust you. They feel comfortable with you, and it makes your job a whole lot easier."
The relationship built between caregiver and client is part of what makes so many caregivers enjoy the job. Once clients trust their caregiver and feel comfortable opening up to them, shifts feel less like work and more like hanging out with friends. And when the client is satisfied and happy, their family will feel at ease.
"The family gets used to you being there. It's like you're family," says Angelia. "And when you lose them, it hurts, but you go to pull up your bootstraps and get going because there's always another family that needs you."
Kindness goes a long way with clients
There's no secret to being a successful caregiver. Angelia's best advice for what makes her and her fellow caregivers great at their job is their kindness and respect for clients.
"Just be polite and treat people the way you want to be treated," says Angelia. "Don't be hateful [toward your clients]. If you go to them with an attitude, you'll get it right back. You have to be an open-minded and pleasant person. I've been in healthcare since 1996, and I've never met anybody that didn't like me because I'm a bubbly person who smiles."
The Visiting Angels team is around to help
Professional caregiving can seem lonely sometimes. Unlike a corporate office job where your manager and coworkers are onsite, caregivers work alone at their clients' homes. But being alone with clients doesn't mean they're alone in their work.
Angelia explains that the Visiting Angels staff is only a call away, and they're nothing but pleasant to speak with, no matter your questions or concerns. "The staff is good. I have not had any issues. If you have a problem or questions or something, you're always welcome to call the office and talk to the person you need to," says Angelia. "It makes your job a lot easier if you have somebody that when you're having an issue, they can help solve it."
Beyond helping with questions, Angelia says the office staff also understands if a caregiver needs to call or is planning a vacation. She says they never make you feel bad for being sick, work with you if you need to take time to spend with family and encourage you to take your PTO.
Getting started with Visiting Angels
Visiting Angels Tulsa hires HHAs, CNAs, and LTCAs to work with individuals in Tulsa and the surrounding communities. You can apply online if you want to join the Visiting Angels team.