Elderly Care in Bixby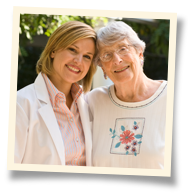 If you could make daily life easier and more enriching for someone you love, why wouldn't you? At Visiting Angels® Tulsa, we're a trusted provider of elderly care in Bixby and the surrounding area. For seniors who are dealing with age-related problems like joint pain or memory loss, our home care services can play a key role maintaining their independence and enjoying a higher quality of life overall.
At Visiting Angels Tulsa, our friendly and attentive care professionals believe that everyone should be able to remain in their home for as long as they wish, regardless of their age or their physical and mental condition. For that reason, we offer flexible elderly care plans that are customized for every client in Bixby. Our caregivers can assist with a range of everyday activities, and are available at any time, day or night.
More About Our Elderly Care in Bixby
If you're concerned that someone you love is no longer able to meet their needs on their own, our care professionals can help. The first step is a free consultation at your loved one's home where we can evaluate their condition and determine their care needs. Then, with your family's help, we can work out a plan and schedule that won't just meet their basic needs, but will improve their quality of life in countless ways.
Our elderly care plans are as unique as our clients in the Bixby area, and can include any of the following services:
Planning and preparing healthy meals
Running errands and buying groceries
Offering engaging conversation and companionship
Assisting with bathing and personal hygiene
Providing personal care for activities of daily living
Giving reminders to take necessary medications
Performing basic housekeeping duties
Relieving family caregivers so they can rest and recuperate
Visiting Angels Tucson Serves Families Across the Bixby Region
Whether your elderly loved one in Bixby requires around-the-clock assistance or a few visits a week from a friendly and capable caregiver, Visiting Angels Tucson can provide the exact level of care they need with our flexible and affordable elderly care.
Our home care services are available for families in the following communities:
Bixby
Tulsa
Broken Arrow
Jenks
Owasso
To learn how our elderly care in Bixby can change your loved one's life for the better — and provide peace of mind for the rest of your family — contact Visiting Angels Tucson today for a free in-home assessment.