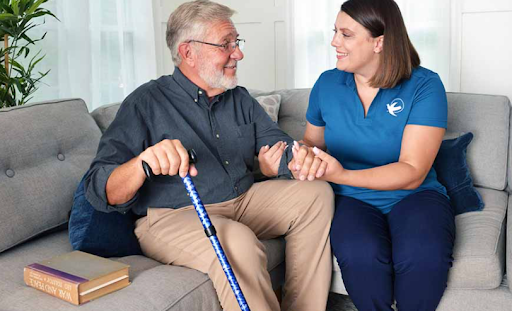 The Role of an In-Home Caregiver
An in-home caregiver is a trained professional who provides non-medical assistance to those needing their services. They provide basic care for seniors by helping with many tasks associated with living independently.
In addition, in-home caregivers play an essential role in helping seniors stay healthy and safe. Without their help, many seniors would struggle to remain in their homes and might require more costly care within an assisted living facility.
Here's a closer look at the role of an in-home caregiver and how they help families of aging family members.
Services provided by In-Home Caregivers
In-home caregivers play a vital role in helping seniors maintain their independence. By providing companionship, assistance with activities of daily living, and support during medical appointments, they help seniors age in place.
They can also help with medication reminders, transportation, shopping, light housekeeping, meal preparation, and organizing daily activities. Failure to maintain a hygienic or safe environment can be dangerous for seniors, particularly those with memory issues.
In-home caregivers also provide emotional support, which is essential for seniors who live alone or feel isolated. Often, this type of support is just as important for seniors' emotional well-being as loneliness can increase the risk of dementia, depression, and other mental health issues.
Providing Emotional and Physical Support
Caregivers are compassionate and patient individuals who understand their clients' physical and emotional needs. They also provide much-needed respite for those caring for their aging loved ones. Family caregivers often must juggle their careers and responsibilities on top of the demands of caring for an elderly parent or relative. Therefore, having an extra set of hands can make a huge difference.
Companion care is also available, which provides seniors with a friendly face to talk to and a way to engage in social activities.
Benefits of In-Home Caregiving Services
In-home caregiving services offer numerous benefits for both clients and their families. Besides aiding their clients, in-home caregivers also provide peace of mind for those with aging loved ones.
In-home caregiving services can also provide financial benefits. Since seniors stay in their own homes and receive additional support, they may avoid more costly long-term care solutions. Nursing homes and other facilities are expensive, and having an in-home caregiver can significantly reduce the financial burden.
Conclusion
For many families, having an in-home caregiver to provide aid and companionship can be a great relief.
In-home caregivers play a crucial role in helping seniors stay independent. They are compassionate individuals who understand the needs of their clients and provide essential services that make a major difference in the lives of their clients. Without the help of in-home caregivers, many seniors would be unable to stay in their own homes and may require more costly care elsewhere.
At Visiting Angels Tulsa, OK, our in-home caregivers provide compassionate care and assistance to seniors in the safety and comfort of their homes. They offer numerous services, including assistance with activities of daily living, medication reminders, transportation, and companionship. Contact us online or call 918-609-5600 to learn more about our home care services. If you're interested in a caring career at Visiting Angels, we'd love to talk with you! We serve seniors and their families throughout Tulsa, Owasso, Broken Arrow, Jenks and Bixby. Visit us online to apply!