Prevent Wandering with Dementia Care Services in Upland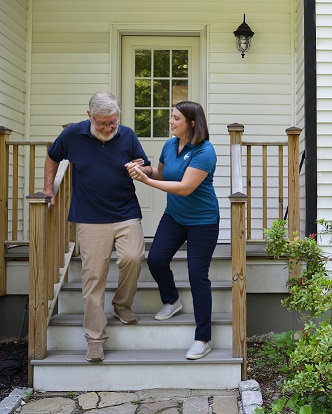 When looking after a loved one with dementia, you have to be aware of the many new challenges they face. At any stage of the disorder, those with dementia can become confused and disoriented. When this occurs, they often end up wandering away from friends and family, as they cannot recognize any familiar faces. With dementia care services from Visiting Angels® Upland, you can protect your loved one from wandering and other harmful effects of their disorder.
We provide in-home assistance to help seniors with dementia remain in their own homes. Living in a familiar environment is a critical benefit for people with memory-based disorders, and we are happy to help make that possible. Our care includes flexible scheduling, adaptable care duties, loving companionship and helpful support for family care providers. To get started, here are some of the warning signs of wandering.
Warning Signs of Wandering
By learning the signs and triggers, you can anticipate a future wandering event and take action early to keep your loved one safe. Here are some things to watch out for:
Slow movements.
They take longer than usual to complete simple trips and tasks.


Disorientation.
They lose their sense of direction and fail to recognize familiar settings.


Time.
They get confused about which time period they are in and talk about past events as if they are current.


Adaptability.
They seem confused and lost when presented with a new environment.
Kind and Loving Dementia Care Services for Upland Area Seniors
The most effective way to help your loved one avoid wandering is to be there for them as often as possible. With our support, providing constant care for your loved one no longer has to be a burden. We offer full or part-time assistance, so family care providers can take time away whenever they need. Hiring our service will help create a safer home life for your relative, while making life easier for you.
We take pride in providing a sense of relief for caregiving family members. We are only able to do so thanks to our amazing home care providers. Each caregiver we hire has to pass our background and reference checks. That means that every person we choose for the role is honest, reliable, and highly qualified. We offer compassionate and friendly support to make an extended home life a reality for your loved one.
Our dementia care is available throughout:
Upland
Rancho Cucamonga
Alta Loma
and the surrounding areas
For more info about our dementia care, call Visiting Angels Upland and book your free initial care consultation today.