Dementia Care Services in Henderson: Tips for Making Every Day Easier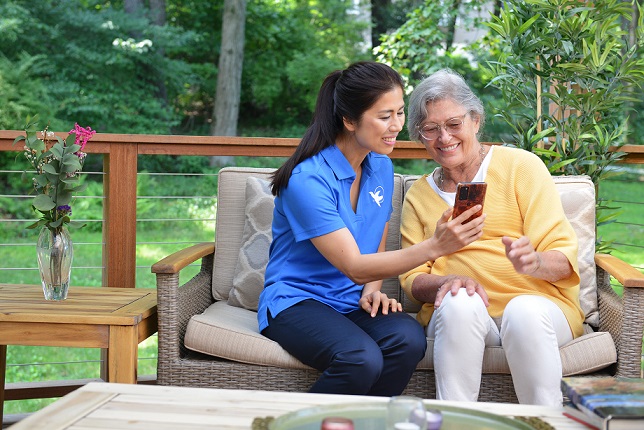 When a loved one is diagnosed with dementia, your first step should be to create a plan to keep them at home. Life at home is much more comfortable and fulfilling for seniors, and those with memory-based disorders can particularly benefit from the familiarity and privacy that only life at home can provide. With our in-home dementia care services, Visiting Angels® Las Vegas and Henderson provides the flexible support many seniors need to remain at home and put off the transition to a care facility.
To provide the best service for each senior, we work closely with family members to develop a customized home care plan. We look forward to collaborating with you in order to create a more positive home life for your loved one. To get started, let's go over some additional ways to help someone with dementia.
How to Support Your Loved One with Dementia
Consistency. Establish a daily routine and help them stick to it. Structure and stability are powerful weapons against the confusion caused by dementia.
Memory assistance. Help them out with medication reminders and other forms of memory assistance.
Healthy lifestyle. Push them to get more exercise and help them maintain a healthy diet.
Independence. Provide help without being overbearing. Help them live as independently as possible.
Positivity. Be a kind, positive, and loving presence that they can rely on.
Take Advantage of Our Dementia Care Services in Henderson
The key to dealing with dementia is to provide your loved one with constant support. With our service, you'll be able to do this without making huge sacrifices of your own free time. You'll still have the chance to remain involved in your loved one's daily care, but with the assurance that you can take time away any time you need. We are proud to offer kind, loving, and respectful support you can depend on.
Visiting Angels Las Vegas and Henderson provides our customized in-home dementia care services throughout:
Henderson
Las Vegas
Anthem
MacDonald Ranch
Summerlin
And the surrounding areas
To get started with our dementia care, call Visiting Angels Las Vegas and Henderson to set up your no-cost care consultation today.