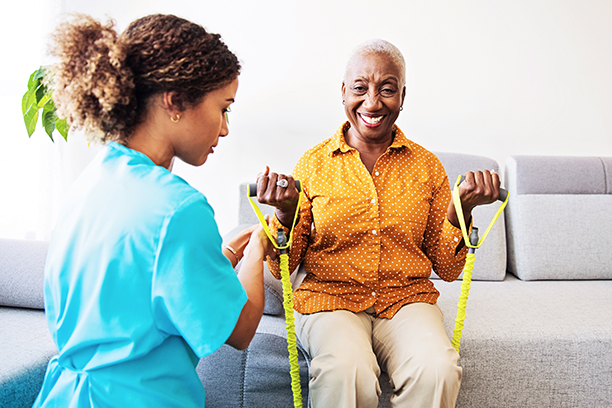 Visiting Angels Venice, FL Alzheimer's Services
At Visiting Angels® Venice, we understand a diagnosis of Alzheimer's or dementia can be startling and scary. You worry about the care your loved one will need and how you will be able to provide it. As the questions and concerns begin to pile up, you can feel overwhelmed. If your family is facing a diagnosis of Alzheimer's or dementia, we invite you to reach out to our team of professionals. We can help to answer your questions and provide peace of mind during this challenging time.
About Our Alzheimer's Care Referrals
Throughout the Venice area, we are working closely with families to provide referrals for Alzheimer's and dementia care services. Our services provide families with a wide range of care solutions helping them to feel confident their family member is receiving the best care possible.
If you are wondering what the best care option for your loved one is, we invite you to consider a referral to a caregiver in our Alzheimer care services network. While many families initially believe nursing homes or retirement centers offer the only solutions, they are pleasantly surprised to learn our in-home Alzheimer's care services can provide the assistance they need. With our referred Alzheimer's care services, your loved one can remain in their own home or in your home without risk. The care providers in our network help your loved one to maintain their daily routines, which in turn helps them to feel more comfortable and confident.
Families in the Venice area who choose our referred Alzheimer's care services enjoy the benefits of having a professional caregiver who can work with their loved one as often as necessary. From occasional respite care to around the clock care, we can provide the dedicated services your family member needs.
When you choose Visiting Angels Venice, you can be confident your family member is receiving the best care available. You will be able to choose from the caregivers in our referral network who have received advanced training in caring for those with Alzheimer's and dementia.
For the finest Alzheimer's care services referrals in Venice please call our office today.
Serving Venice, North Port, Englewood, Port Charlotte and Surrounding Communities
Visiting Angels Suncoast
13005 Tamiami Trl
North Port, FL 34287
Phone: 941-218-8404
Florida License: 30211336