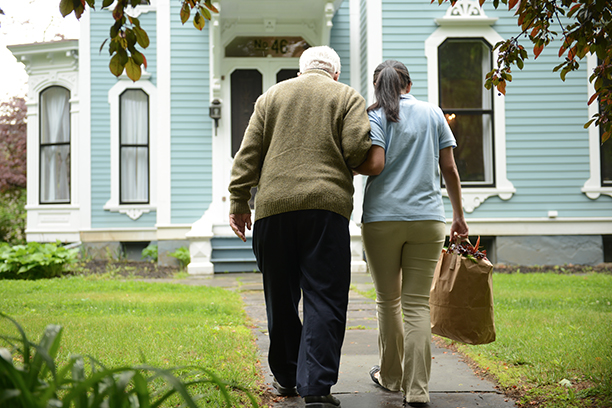 Learn about Alzheimer's Home Care in Vienna, VA and Surrounding Cities
Visiting Angels Answers Alzheimer's Home Care FAQs in Vienna, Tysons, Falls Church, Fairfax County, and Nearby Areas
If your loved one has Alzheimer's disease, you probably have questions about professional care and what the future will bring. Living with dementia caused by Alzheimer's can be a challenge for the entire family. According to MayoClinic.org, "Alzheimer's disease is the most common cause of dementia—a continuous decline in thinking, behavioral and social skills that affects a person's ability to function independently." Visiting Angels of Vienna can help provide a wide range of Alzheimer's home care services and offer support as the disease progresses.
What is Alzheimer's Disease?
According to MayoClinic.org, "Alzheimer's disease is a progressive neurologic disorder that causes the brain to shrink (atrophy) and brain cells to die." Alzheimer's disease causes dementia, a set of degenerative cognitive symptoms that can cause memory, thinking, and behavior problems. Symptoms usually develop slowly and become worse over time. Severe or advanced Alzheimer's interferes with daily living.
What is the Difference Between Dementia and Alzheimer's?
Dementia is a group of symptoms that can include memory loss, confusion, reduced concentration, personality changes, apathy, withdrawal, depression, and the ability to do everyday tasks. Several diseases can cause dementia, but Alzheimer's is the most common cause. Alzheimer's disease accounts for 60% to 80% of all dementia cases.
Dementia and Alzheimer's are not a normal part of aging. While cognitive abilities may change or slow throughout the aging process, Alzheimer's can make it hard to function daily. Early-onset Alzheimer's can affect adults in their 40s or 50s.
What are the Common Symptoms of Alzheimer's?
A typical early symptom of Alzheimer's is difficulty remembering new information or adjusting to daily life changes. Alzheimer's disease begins in the brain that is dedicated to learning and processing further information. As the condition worsens, symptoms can include confusion about time and life events, feeling lost or confused, mood swings, behavior and personality changes, or difficulty speaking, walking, or swallowing.
How Does Alzheimer's Disease Develop?
Alzheimer's is a progressive disease, worsening over time. In the early stages, memory loss may be minor, not a primary symptom. In later stages, memory loss is significant and impacts the ability to concentrate, complete tasks, recognize others, and track life events. Patients in the later stages often require professional Alzheimer's home care.
What Services Does Visiting Angels of Vienna Provide?
Visiting Angels of Vienna offers trained, experienced caregivers who specialize in Alzheimer's home care. Services are available at home or in an assisted living facility or nursing home. Our services include:
Managing moments of confusion, anxiety, and anger

Wandering prevention

Assistance with

Sundown syndrome

Medication reminders

Laundry and light housekeeping

Meal planning and meal preparation

Grocery shopping and prescription pickups

Help with dressing, grooming, bathing, and toileting
To learn more about Alzheimer's home care, call Visiting Angels of Vienna at 703-686-8509 to schedule a free consultation or contact us at one of the buttons below.
Serving Tysons, Vienna, Falls Church, Fairfax County, VA, and the Surrounding Area
Visiting Angels
VIENNA, VA
8221 Old Courthouse Rd #208
Vienna, VA 22182
Phone: 703-291-1262
Fax: 703-291-4974