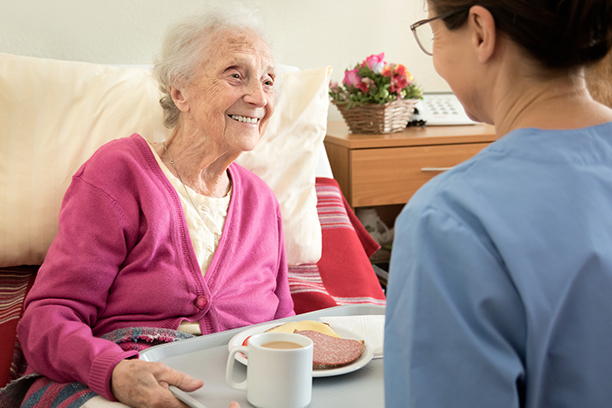 Long-Term Care for Seniors in Virginia Beach, VA, and Nearby Areas
When a senior undergoes surgery or other in-hospital procedure, most families are most concerned with the outcome of the procedure itself.
The period following an operation is one of the most critical, with over 20% of discharged patients returning to the hospital 30 days after their release. So, what can you do to keep a loved one from joining that tragic statistic? Long-term care and transitional care could be the solution.
Long-Term Care is Available for Seniors in Virginia Beach, VA, and the Surrounding Neighborhoods
Visiting Angels in Virginia Beach offers our three-pronged Ready-Set-Go Home care program, which helps seniors stay on track to recovery by providing the support they require both in the hospital and at home.

How Transitional Care in Virginia Beach Helps Seniors Avoid Post-Hospitalization Suffering
Our caregivers at Visiting Angels Virginia Beach offer numerous alternatives for long-term care to ensure that seniors having surgery have all they need from start to finish. These options combine to provide genuinely comprehensive support.
On three levels, we address a senior's needs, including:
At the Clinic
Seniors frequently require assistance even before they return home. While they're in the hospital, a companion caregiver can act as their advocate and ensure they understand the information and instructions.
In Your Own Home
Many seniors will require long-term care assistance with portions of their daily routine at home, primarily if they are confined to their bed or a chair. A transitional senior care provider from Visiting Angels Virginia Beach can assist them in avoiding overexertion and ensuring that they are adhering to hospital discharge recommendations.
At the Workplace
Our team at Visiting Angels Virginia Beach can offer further assistance to your loved ones by ensuring that the items they require for their rehabilitation, such as medical equipment and other supplies, are always available when they are needed.
If your loved one in Virginia Beach is scheduled for an in-hospital surgery, transitional senior care may be what they need to get back on their feet quickly. With the help of Visiting Angels Virginia Beach, you can put your mind at ease by ensuring that your entire family has the support they need to make a safe and comfortable transition from hospital to home.
Contact Visiting Angels
Call Visiting Angels Virginia Beach today for a free in-home consultation to learn more about our long-term care services!


Serving Virginia Beach and the South Side
Visiting Angels
VIRGINIA BEACH, VA
1642 Pleasure House Rd #104
Virginia Beach, VA 23455
Phone: 757- 216-1934
Fax: 844-795-8881