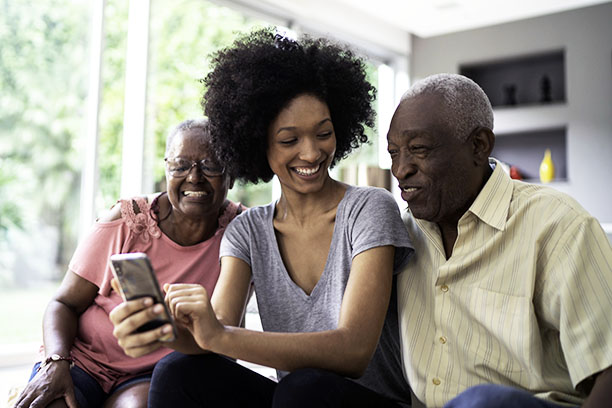 Elderly Home Care in Lindsay, CA
Social Care Program for Lindsay, CA Area Seniors
Quality elderly home care requires viewing a client from multiple lenses: physically, emotionally, spiritually, and socially. Catering to those specific realms gives seniors the power to live fulfilling lives. We believe that a senior's social well-being is very important, and through our Social Care Program, we help local seniors develop their social skills by using modern technology.
Seniors can develop socially by utilizing modern technology to connect with their loved ones (family, friends, etc.) and the world around them. Modern technologies can help seniors connect with communities locally as well as far and wide. Even if their friends may not live near them, our Social Care Program provides an alternate way through elderly home care for them to connect with their loved ones. Some examples of modern technology that we teach our seniors about are FaceTime, Skype, and Facebook.
Recent studies have shown that surfing the internet can decrease depression by 20 percent. Additionally, a University of Arizona study found that seniors who used Facebook showed a 25 percent increase in boosting their memory skills.
Another study showed that seniors who frequently use social networking websites, like Facebook, have a positive emotional experience when measured by breathing rates, pupil dilation, and brain stimulation.
Through our Social Care Program, we teach our seniors about a variety of technologies that they can utilize to their advantage. Technology, such as the Internet, can provide opportunities to seniors that they've never witnessed before. These technologies include:
Using a cellphone (texting, using Facetime, etc.)

Sending emails or Skyping on the computer

Creating a Facebook account and interacting on the website

Logging into the computer

Researching information through a search engine

Shopping online
The Visiting Angels Social Care Program has helped thousands of seniors across the nation grow and develop socially. If you're interested in learning more about our elderly home care, contact Visiting Angels of Lindsay today.
Serving Visalia, Porterville, Lindsay, Hanford, Tulare, Woodville, and the Surrounding Areas
Visiting Angels
VISALIA, CA
1430 S. Mirage Ave.
Lindsay, CA 93247
Phone: 559-853-4420