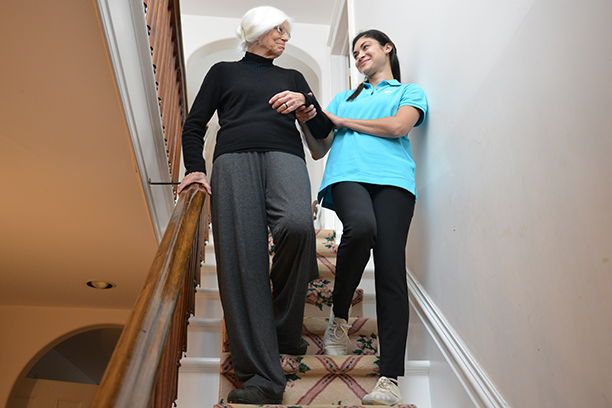 Specialized Memory Care in Lindsay, CA and Surrounding Areas
Our in-home Specialized Memory Care services provide seniors with cognitive conditions in Lindsay, Visalia, and the surrounding areas in California with quality home care assistance
Seniors diagnosed with any progressive cognitive condition should seek professional care to assist with their needs as their disease progresses. Many families in Lindsay, CA, and surrounding areas have turned to Visiting Angels for their loved one's home care services because they can have care provided in their home—many seniors wish to age in their home, where they can be most comfortable.
Visiting Angels of Lindsay is the leading provider of Specialized Memory Care services for our local seniors in Visalia, Tulare, Hanford, Porterville, Lindsay, and surrounding communities. We provide care regardless of the senior's stage or symptoms and from a locally trained caregiver.
How Visiting Angels Lindsay Assists Seniors with Cognitive Conditions
Progressive cognitive conditions, such as Alzheimer's or dementia, cause memory loss and confusion, leaving severe, irreversible changes to the brain. As time goes by, the disease will progress and become more apparent. Seniors often feel depressed, agitated, or confused—which is why they need the extra assistance that can come from a home care professional.
If your senior loved one is suffering from dementia, Visiting Angels of Lindsay can assist by providing:
Grooming and dressing assistance – It includes hygiene, bathing, toileting assistance, and more.
Mobility assistance – We help those with limited mobility safely move inside and outside their home.
Light housekeeping includes basic homemaking tasks and assistance with vacuuming, dusting, cleaning, laundry, ironing, and more.
Meal preparation – Our knowledgeable caregivers can plan healthy, well-balanced meals to ensure your parent gets plenty of nutrients.
Medication reminders – If you are concerned about medication errors, our caregivers can keep tabs on your loved one's medication schedule and make sure they always take their pills as prescribed.
Wandering prevention – As wandering is a common problem for those with memory-related conditions, our in-home memory care services aim to prevent accidents. Our caregivers will keep a close eye on your loved one and make certain they do not wander off.
Fall prevention – Just like wandering, falls present a common safety concern for seniors with dementia. Our caregivers can help fall-proof your loved one's home and take precautionary fall-prevention measures.
Transportation – We can help your loved one get to doctors' appointments, run errands and visit friends and family.
Get in touch with our Lindsay, CA office today to learn more about how our in-home Specialized Memory Care services can help your loved one remain safely at home for longer.


Serving Visalia, Porterville, Lindsay, Hanford, Tulare, Woodville, and the Surrounding Areas
Visiting Angels
VISALIA, CA
1430 S. Mirage Ave.
Lindsay, CA 93247
Phone: 559-562-1161