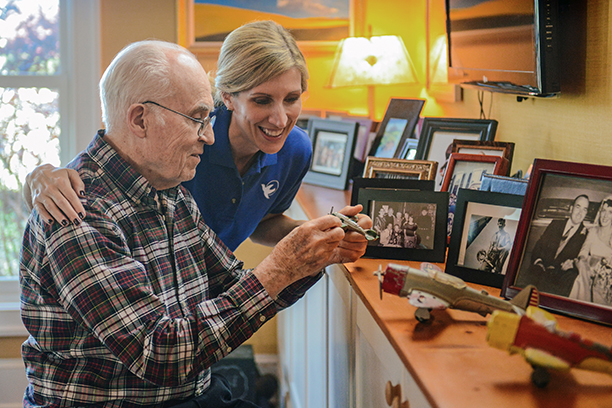 How We Assist With Aging in Place in Warwick
Aging in place is possible thanks to our local care agency's in-home services. At Visiting Angels® Warwick, we're determined to help seniors across our community experience the advantages of remaining at home during their golden years. To ensure they have the support they need to safely complete daily activities, we match them with professional care providers who can offer personalized assistance and compassionate companionship.
Our caregiving services are a great option for seniors who want to live at home but are struggling to maintain their independence due to age-related conditions and concerns. We can arrange care for elderly adults throughout the Warwick area, as well as those in nearby communities such as Washington, Kent, Eastern Providence, and Newport Counties.
The Importance of Aging in Place in Warwick
Aging in place is often crucial to the emotional well-being of seniors. Many elderly adults crave autonomy as they begin to lose their mobility and coordination. Ensuring they have the chance to dictate their own schedules and take part in their preferred daily routines and rituals is key. With personalized in-home care, seniors can live life on their own terms even as they cope with challenging circumstances.
In-Home Care vs. Assisted Living
While in-home care gives seniors the ability to remain in familiar surroundings, assisted living does not. To benefit from assisted living, elderly adults must move away from their precious home environment. In facility settings like nursing homes and assisted living centers, residents are often required to follow predetermined schedules for meal times and leisure time. As a result, seniors often feel a move to an assisted living facility equals a loss of independence.
There are other drawbacks to consider before choosing assisted living for your loved one. Shared living spaces are prone to breakouts of contagious illnesses, often affecting the most vulnerable residents. For this reason, studies have shown that seniors who receive care at home experience better health outcomes than those in assisted living communities.
How We Help Families in Warwick
We're proud to offer an alternative to assisted living that gives seniors a greater degree of freedom while providing their concerned loved ones with peace of mind. Our services include a helping hand with a wide range of daily activities and important routines. We also encourage our caregivers to build relationships with seniors and their families in order to promote their quality of life and make the aging process a more positive experience.
Is aging in place the right choice for your loved one? Get in touch with Visiting Angels Warwick today to learn more by booking a free senior care consultation.
Serving Washington, Kent , Western Providence and Newport Counties
Visiting Angels
WARWICK, RI
1865 Post Rd #103
Warwick, RI 02886
Phone: 401-384-7900
Fax: 860-449-1656