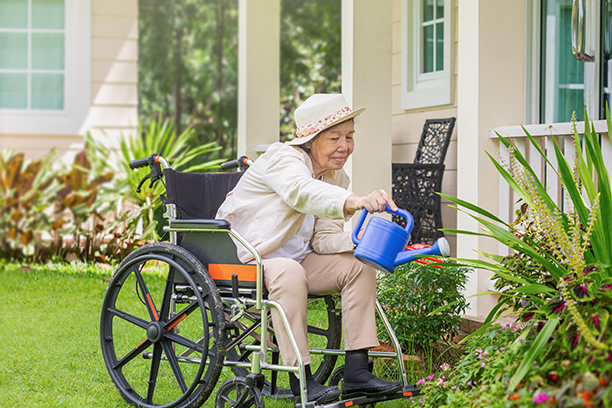 In-Home Dementia Care for Seniors in Washington, DC
Living with dementia can be a challenge for seniors. That's why Visiting Angels offers personalized in-home dementia care services throughout Washington, DC
If your senior loved one is living with dementia, you should look into care options as soon as possible. Dementia is a progressive condition, meaning symptoms will worsen over time. Even if your loved one is doing fine living on their own now, they may need more and more help over time with daily activities and taking care of themselves.
At Visiting Angels Washington DC, we've been helping many seniors in our community get the support they need with personalized in-home dementia care services. You can count on our caregivers to help your loved one manage symptoms of dementia, assist with everyday tasks and errands and ensure they stay safe and comfortable as they live out their golden years in their beloved home.
How Do Seniors with Dementia Benefit from In-Home Care?
When a senior loved one receives a dementia diagnosis, it can be difficult to figure out the next steps. Many families assume that their loved one will do best in a nursing home or long-term memory care facility. Some family members may even take on the caregiving role so their loved one can always have someone to support them.
However, relocation can be hard for seniors, especially those with conditions like dementia that impact their cognition and memory. Your loved one may not like the idea of living in unfamiliar surroundings and having to conform to the facility's day-to-day schedule. And while you may be able to provide the care your loved one needs for now, you may start struggling with the responsibility as their dementia worsens.
With in-home dementia care, your loved one can receive comprehensive, one-on-one support without having to move out of their home. A professional caregiver can assist your loved one with everyday tasks like making meals and getting dressed, help them stay healthy by reminding them to take their medication or driving them to the doctor's office and provide meaningful companionship to fulfill their need for social interaction. With in-home care, seniors don't have to stress out about moving to a new home and family caregivers can receive additional support to fill in the gaps.
Why Families Choose Visiting Angels Washington DC
With in-home dementia care from Visiting Angels Washington DC, your loved one can receive the support they truly need to age in place while living with dementia. When it comes to senior care, we believe a personalized approach is best. After all, every senior has their own unique needs. An older adult living with dementia may need more comprehensive, hands-on care compared to one who doesn't.
Our care coordinators will work with your family to determine what services will best help your loved one. We will then create a plan of care that includes the care they need while working with their schedule. We can provide care during the day, at night, on weekends and during holidays, so your loved one can continue to enjoy their everyday routine knowing a caring presence will be there when they need it most.
Some of our in-home dementia care services include:
Meal preparation and feeding assistance
Light housekeeping
Medication reminders
Help with bathing, grooming and getting dressed
Mobility assistance
Toileting and incontinence care
Wandering prevention
Help with managing Sundowners' Syndrome
Transportation assistance
Help with running errands
And more
To learn how Visiting Angels Washington DC can help your loved one live independently with dementia, call us at 202-701-1437 to schedule a free in-home consultation!
Serving Washington, DC Metro Area
Visiting Angels WASHINGTON DC
7826 Eastern Ave NW #409
Washington, DC 20012
Phone: 202-701-1437