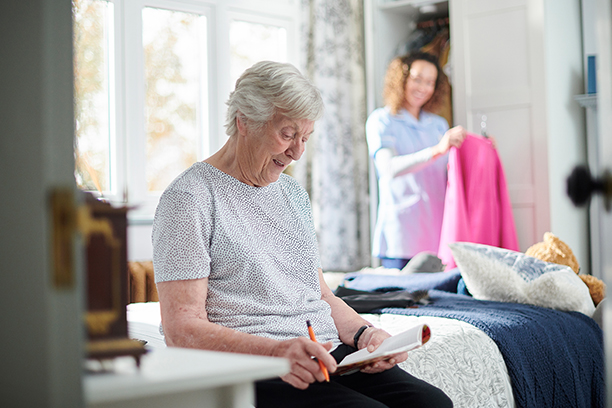 Home Care Services in Waynesboro, PA and the Surrounding Area
Visiting Angels of Waynesboro's Home Care Services
When you allow Visiting Angels to provide your home care services, you get the pleasure of having a personalized care plan based on your needs. If you have been thinking about bringing in a senior care service provider, we know you have many questions about what these services offer. Visiting Angles is home to a team of professionals committed to being there to answer your questions address any worries you might have. Be sure to contact us at any time 24/7 if you would like to learn more about our senior care services in Waynesboro and the surrounding communities.
A Full Range of Home Care Services for Your Senior Loved One
After you select Visiting Angels as your home care services, we start by going over the services your loved one needs. Should it be necessary, we will include those family members involved in the decision-making process. We will work with your loved one's doctor(s), nursing home staff, hospital, or social worker. Our intent is to make sure we have all pertinent details regard the services your loved one needs.
Visiting Angels of Waynesboro has the training needed to work with, you, your loved, and family to create a personalized home care service plan. To ensure your loved one will be comfortable with their caregiver, we match them with a group of our compassionate caregivers to select from. When you choose Visiting Angels as your senior care provider, we plan for you to be there during the selection process.
Among the Services We Provide Are:
Medication Reminders
Joyful Companionship
Respite Care for Family Caregivers
Walking Assistance
24 Hour Care Available
Dressing Assistance
Bathing Assistance
Temporary or Long-Term Care is Available
Light Housekeeping
Care is Available Mornings, Mid-Day and Evenings
Errands and Shopping
Meal Preparation/Diet monitoring
Weekend and Holiday Care are Available
All After Hours Calls are Responded to Within 15 Minutes
There is nothing worse than calling your loved one's home care after hours and getting their voicemail. If you call Visiting Angels at at 717-749-0458 after hours and get our voicemail, our franchise agencies have been trained to respond in fifteen minutes or less. We provide you and your loved one with the finest care and meeting their needs in a way that works best for you.

Serving Waynesboro, Greencastle, & Southern Franklin County
Visiting Angels
WAYNESBORO, PA
10764 Buchanan Trail E
Waynesboro, PA 17268
Phone: 717-749-0458