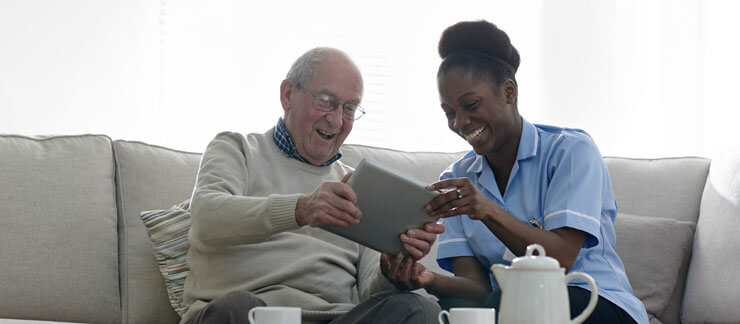 3 Keys to Home Care Provider Compatibility
Finding the right home care provider for your spouse, parent, or grandparent can be difficult. Thanks to our Select Your Caregiver® program, Visiting Angels® makes it easy for care recipients and their families to find a compatible home care provider. We've been matching clients with qualified and compassionate caregivers for more than two decades. We know what it takes to find the right fit, and we know how important and impactful your choice of caregiver will be.
If you're currently looking for a home care provider and you're unsure what to look for in a caregiver, don't worry. By focusing on the following three qualities, you will quickly narrow down the list of potential caregivers.
1. Check for Caregiving Skills & Experience
Home care is a wide-ranging industry, encompassing many different types of care services. On one end of the spectrum is companion care, which provides aging and disabled individuals with a helping hand for basic, day-to-day activities. On the other end, are various types of specialized care for individuals with physical and cognitive disabilities.
If your loved one only requires basic assistance — help running errands, making meals, doing laundry, etc. — a companion care provider will be suitable. Other types of care will require a caregiver with specialized skills and experience. This includes any type of care that requires physical contact between the care provider and the care recipient, as well as care services for specific conditions, such as Alzheimer's disease.
Before meeting with in-home care agencies, it's a good idea to draw up a list of tasks that your loved one will need from his or her caregiver. Consider researching caregiving activities online so that you don't forget anything. This will also allow you to familiarize yourself with which types of caregivers provide which types of services.
When meeting with potential in-home care agencies, review this list with them in detail. Ask them whether they provide each of the services your loved one will need. Also, check whether they have training or experience providing these services to seniors. Finally, make sure that they are adequately licensed for whatever level of care your loved one requires.
2. Choose a Home Care Provider with Personality
When hiring a home care provider, a caregiver's personality can be even more important than his or her professional skill set. On a basic level, this will ensure that your loved one trusts his or her caregiver. Without this trust, high-quality care simply isn't possible.
On a deeper level, the right personality fit can be the difference between substandard care and the perfect caregiver. Your loved one will spend several hours a week with their caregiver, so it's important that a strong relationship is established. When personalities clash, home care visits are a chore for both parties. But with the right fit, a caregiver can feel like a new member of the family.
As you meet with caregivers, it's important that you and your loved one get a feel for each caregiver as a person. Will your loved one feel comfortable receiving care from this individual? Will your loved one enjoy conversations or quiet time in this person's presence? Will you and your family feel at ease with this caregiver looking after your loved one? Trust your instincts and make sure that you, your loved one, and your family are happy with the final decision.
3. Caregiver Availability & Scheduling
The third important factor when choosing a compatible home care provider is scheduling and availability. While some seniors only require a few hours of care every week, others require care on a full-time basis or a 24/7 schedule. The more intensive your loved one's caregiving needs, the more difficult it will be to find a caregiver with suitable availability.
At the same time, many seniors are set in their day-to-day routines and preferences. It's important that these routines are maintained or accommodated as much as possible when scheduling home care visits. If your loved one enjoys sleeping in, early morning visits could be disruptive. If they enjoy afternoon walks, you'll want to make sure that a caregiver is there to accompany them.
While scheduling and availability are important in a home care provider, sometimes it's worth making the sacrifice for the perfect caregiver. If, for example, you've found a caregiver with the ideal skill set and personality, but your loved one would need to take their daily walk an hour later each day, a slight change in your loved one's routine may be worth it to get the caregiver you feel most comfortable with.
Looking for qualified home care providers in your area? Contact your local Visiting Angels office to schedule a free in-home consultation and learn more about our Select Your Caregiver program.