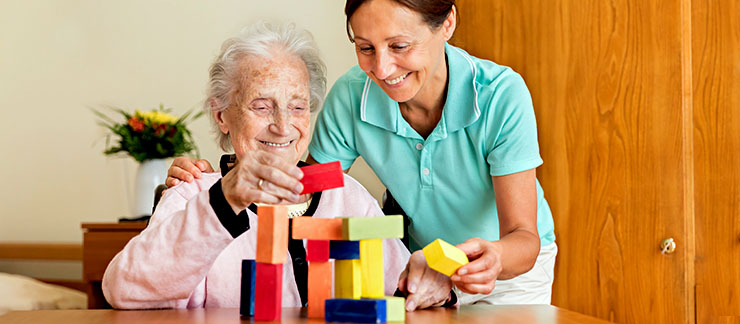 6 Benefits of Customized Dementia Care
Seniors living with dementia have different needs depending on their symptoms, disease stages, risks, overall health, personal preferences, and other factors. A "one-size-fits-all" care option may not take all of these factors into account, making it more challenging for people with dementia to receive proper care.
If you're a family caregiver of an older loved one who is showing early signs of dementia or has already been diagnosed, finding the right personalized care can help them stay healthy and safe.
Specialized Dementia Home Care
Visiting Angels' dementia care services are offered through its Life Care Navigation™, a collection of specialized senior care services, which focus on different aspects of elderly living. These services include a dedicated Alzheimer's care program for those who are living with Alzheimer's disease, which accounts for 60-80 percent of all dementia cases.
Advantages of One-to-One Dementia Care
Here are some benefits of customized, one-to-one dementia care provided by a qualified in-home caregiver:
All the care your loved one needs — without the extra cost

Visiting Angels can provide personal care your loved one needs without the extra cost of unneeded services. For example, if you or other family members are able to care for your loved one on most evenings and weekends, an in-home caregiver can be hired during weekday hours to provide significant cost savings. In-home care also encourages independence by supporting care recipients as they continue to perform daily activities such as cooking, self-care, and meal planning.
Favorite activities in familiar surroundings

Although nursing facilities usually offer a range of activities for older adults, they don't provide the ability to participate in familiar activities at home. An in-home caregiver can offer one-to-one support as your senior continues with home-based activities that also provide cognitive support.
Flexibility for your loved one's changing needs

As your loved one's condition changes, the Visiting Angels team will review his or her care plan and make adjustments to ensure your loved one continues to receive the best personal care. For example, if your loved one is becoming increasingly agitated at night, his or her care plan can be adapted to include overnight care, help with bathing, and increased safety measures to prevent wandering.
Getting to know your loved one's personal preferences

In addition to understanding your loved one's personal care needs, an in-home caregiver will learn about individual preferences that provide a feeling of comfort and security. Caregivers will also learn about other preferences, such as favorite television shows, music, and activities that can encourage familiar routines.
Tailored care and communication strategies

Your loved one's caregiver will use tailored communication and care strategies, enabling them to overcome obstacles and establish a connection that allows them to fulfill your loved one's needs for personal care and companionship. Visiting Angels caregivers receive training in a variety of senior care strategies and communication techniques, allowing them to communicate effectively, assist with a variety of light household tasks, and safely provide dignified personal care.
Selecting the right caregiver

The Select Your Caregiver® program allows you to choose the caregiver that is right for your loved one — with skills, strengths, and availability suited to your loved one's unique care needs. In addition to giving you peace of mind, Select Your Caregiver will provide your loved one with the consistent, reliable care they need to help them feel safe and secure.
Our Visiting Angels care coordinators are available to discuss your loved one's needs during a free in-home care consultation.