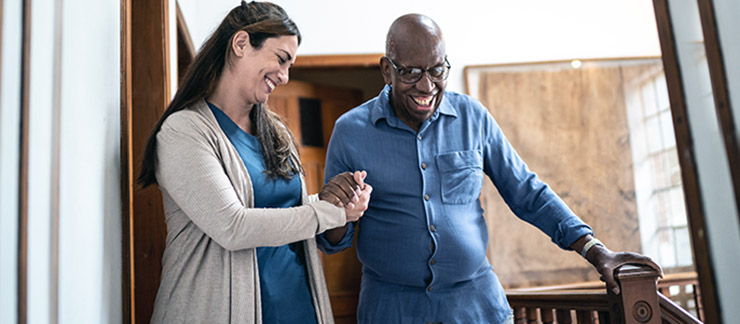 Assisted Living vs. Home Care
If you're contemplating senior care options for a loved one, you've probably heard about "assisted living." You may have looked for information on various assisted living facilities in your area. Did you know in-home care can also be an option — even if your loved one is living with a condition that causes health, cognitive, or mobility challenges?
The main difference between assisted living and home care is the location where the care is provided. Assisted living refers to support provided in a residential facility, where your loved one may reside in an accessible apartment, townhome, or suite with a private bathroom.
Home care is provided in your loved one's residence without the need to relocate to an assisted living facility. Home care enables seniors to age in place in the comfort of their own homes with familiar surroundings and routines.
What Services Are Provided By Assisted Living vs. Home Care?
Assisted living facilities and home care offer similar personal care services, including help with the following:
Grooming
Dressing
Bathing
Toileting
Errands
Cooking and meal preparation
Laundry
Light housekeeping
Mobility and transfers
Medication reminders
Transportation
However, in-home personal care professionals will provide dedicated, one-on-one care at your loved one's home. An in-home caregiver will focus entirely on your loved one's preferences, comfort, and safety.
Assisted living care is provided by facility staff members, who may care for multiple residents during each shift. As a result, it may be more challenging for team members to provide the level of personalized care your loved one may need.
What Is the Cost of Assisted Living vs. Home Care?
Costs vary across the U.S. for assisted living and home care services. However, assisted living usually comes with a higher price tag — and often requires residents to make a significant, up-front financial deposit before moving into the facility.
On the other hand, an in-home personal care provider can offer flexibility and home care cost savings if your loved one needs assistance at certain times of day, such as first thing in the morning, at bedtime, or overnight. For example, Visiting Angels will customize your caregiver's schedule so you're not paying for services that aren't needed.
At an assisted-living facility, residents pay one price for 24/7 care, whether it's necessary or not. Assisted living facilities often offer amenities, such as exercise facilities, social clubs, trips, and meal plans. Although these amenities may be convenient, they also drive up the overall cost of care. When considering care options, ensure your loved one will use these amenities to justify the higher price.
What Else Do You Need To Know About Assisted Living vs. Home Care?
Other differences between assisted living and home care include:
Assisted living facilities often have a waiting list for residential openings, while home care services can typically start within a few days.
In-home care can be canceled at any time with two weeks' notice, while assisted living involves a permanent move to a new facility.
In-home personal care providers do not offer medical care, but some assisted living facilities may have medical providers on staff who can deliver health care services.
Living in a congregate setting such as an assisted living facility may increase the risk of contracting colds, flu, stomach bugs, and other contagious illnesses compared to aging in place with in-home personal care.
Learn More About Visiting Angels' Personalized Home Care
Choosing between in-home personal care and an assisted living facility is a complex, highly personal decision, and it's essential to explore all your options. If you are considering in-home personal care services, Visiting Angels offers free in-home consultations for older adults and their loved ones. During the consultation, a Visiting Angels care coordinator will answer your questions, learn about your loved one's care needs, and discuss how in-home services might be able to help.
Contact Visiting Angels today!