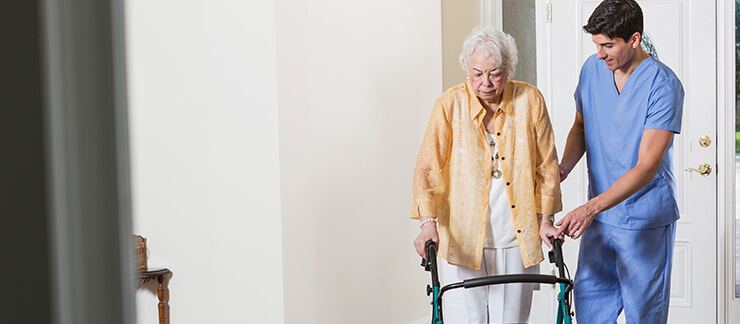 The Ultimate Guide to Preventing Elderly Falls
Falls can be dangerous at any age, but mainly for the elderly. They cause injury, hospitalization and sometimes are fatal. When it comes to falls, prevention is better than recovery.
Fall risks can be split into two main categories: internal and external risks. Internal risks are related to the senior and his or her physical limitations, and external threats are about the world around the senior, whether inside or outside the home. To indeed mitigate the risk of your loved one falling, you have to fall-proof both the senior and the senior's home.
But don't feel overwhelmed. There are simple steps you can take to do this. It starts with first understanding the risks so that you or a professional caregiver can help fall-proof your senior and his or her home.
Internal Risks
Eyesight
Per the Center for Disease Control (CDC), 2.9 million seniors in the USA have a visual impairment. With vision problems comes an increased risk of falls. A senior with poor eyesight may not be able to see dangers in or outside the home, such as pets or poorly lit areas. Simply making sure your loved one keeps his glasses or contacts in an easily accessible location can mitigate fall risk.
Medications
Seniors are more likely to be on medications­, which means they're more likely to deal with the medicinal side effects. Taking multiple medications also means they have to deal with the risk of medicines interacting with each other and causing further issues. Side effects from medicines can make seniors dizzy or tired and more prone to falls. You can protect your senior by keeping a list of every medication taken, including over-the-counter medications, and consulting a doctor or pharmacist whenever new medications are prescribed. If you're worried that you lack the time necessary to ensure your loved one is taking medications correctly, a professional caregiver can be a crucial resource.
Nutrition
Poor nutrition can lead to weakness, which can be a factor in falls. Ensuring your senior is eating a healthy, nutritious diet can help to prevent that weakness and a disastrous fall. If you can't guarantee your loved one is eating a nutritional diet, a professional caregiver can help your loved one in the preparation of nutritious meals. It's also worth noting that depression and loneliness can lead to a loss of appetite. So along with offering social comfort, companion care could help to keep your senior well-nourished and at less risk of a fall.
Atrophy
Muscle weakness is part of aging, and low-muscle tone can increase a senior's risk of falling. Exercise can help to keep muscle strength up and lower the risk of falls. Many activities such as aquatic exercise, yoga, and tai chi are suitable for the elderly, although you should consult your loved one's physician to learn if he or she is fit enough before commencing. If your loved one is unsteady on his feet, it may be better to only exercise under supervision. If you can't be with your loved one often enough, arrange for a professional caregiver to introduce gentle exercise, such as a supervised walk, as part of any visit.
Previous Falls
That first fall is an enormous event in your loved one's life, because if your senior has already fallen, he or she is automatically at double the risk of falling again. See this guide on what to do if your loved one falls for ideas on how to mitigate this increased risk.
External Risks
Home
Most falls occur in the home or nearby. An uneven step or a rug that is not properly fixed might not be something a senior can avoid easily, so fall-proofing your loved one's home is essential. Walk around the house and take inventory of what you see. Everyday items could be increasing the risk of trips or falls, so you'll want to:
Ensure lighting is adequate. As previously discussed, poor eyesight can increase a senior's risk of falling, and poor lighting has precisely the same result. Make sure stairs are especially well lit and have your loved one call you or another family member if a bulb blows.
Fix damage. It may be that the front step has been broken or uneven for as long as you can remember, but now that your loved one is at higher risk of falls, it's time to fix it. All floors should be flat and firm and wobbly steps can be a particular danger.
Floorcoverings should be fixed to the floor. Check that carpets are correctly attached at the edges, particularly on stairs. Remove rugs unless they can be fixed down.
Look at how the home is arranged. A sofa may have stuck out into the center of the room for years, but now that your loved one is aging, it could become a hazard, so consider placing it against a wall. Open spaces are safest. Unnecessary, decorative furniture pieces might be better put away.
Make sure that everything your loved one needs is within reach as stretching for high or low items can cause falls.
Consider whether extra safety items may help. Additional railings, grab bars, or non-slip mats in the tub or on a tiled bathroom floor could all help to keep your senior safe.
For more detailed advice see this guide to fall-proofing your loved one's home.
Clutter
Once the home is fall-proofed, keeping it tidy and free of clutter is essential. Floors and pathways must be kept clear, and steps should be dry and uncluttered. A dropped item may not seem urgent at the time but could turn into a lethal trip hazard later, as can spills. Don't forget the yard: Paths should be clear of weeds, or other garden detritus that could be a trip hazard. If your loved one struggles to keep up with cleaning, home care is an outstanding resource. Hiring someone to visit a few times a week and help with light housework will keep walkways clear, ensure that your loved one's home is safe and could be a lifesaver in the future.
Fall Prevention Qualifications for Caregivers
If your loved one has internal factors that may increase the risk of falls, such as poor eyesight or muscle weakness, or hazards around the home like steps, bathrooms or lots of furniture, it makes sense to consult someone who has fall-prevention expertise. Some professional caregivers have fall prevention certification, so if you're planning to hire a caregiver, or even discuss in-home care with an agency, ask about this in advance. Agencies should be happy to match you with a caregiver who meets the needs of your loved one. See this guide to hiring a professional caregiver for more advice.