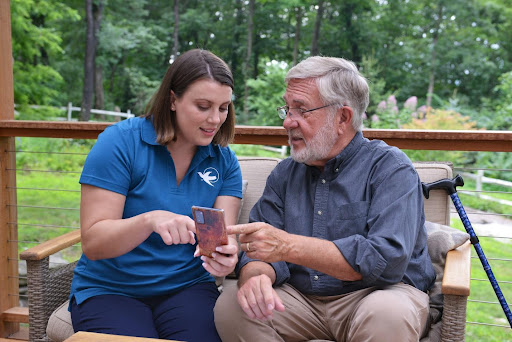 Understanding the Role of a Professional Caregiver
Professional caregivers play a vital role in the lives of aging seniors in their community. Without the assistance of a trained caregiver, many older adults could not live safely and comfortably in their homes. The rewards and benefits of caregiving are one of the driving forces that encourage individuals to start their careers as a caregiver. Still, for ultimate success, it's essential to understand the role of a professional caregiver and how you fit into your clients' lives.
What is a Professional Caregiver?
A professional caregiver is a trained individual who assists clients with household and personal tasks. Many professional caregivers are at-home caregivers, meaning they work within a client's home, helping with anything from light housekeeping and meal preparation to mobility assistance and personal grooming.
It's essential to distinguish between a professional caregiver and a Certified Nursing Assistant (CNA). A professional caregiver provides non-medical assistance, meaning they cannot administer medications or change bandages. In contrast, a CNA can perform some medical tasks under the supervision of a Registered Nurse (RN).
Types of Care Provided by Professional Caregivers
Professional caregivers can provide various services depending on their expertise and the agency that employs them. At Visiting Angels, we deliver two primary types of services: companion care and personal care that encompass a number of options, click on the links below to learn more about what our Caregivers provide.
Companion care: A caregiver who provides companion care helps clients with non-medical activities that occur in daily living. These activities include laundry, light housekeeping, meal preparation, transportation, and grocery shopping.
Personal care: Caregivers who provide personal care do all the services of companion care but with hands-on assistance such as walking, toileting, bathing, and dressing.
In addition to companion and personal care, caregivers with Visiting Angels can provide specialty care for seniors with more demanding needs. Our specialty care services include palliative care, transitional care, social care, dementia care, and end-of-life care.
Starting a Career with Visiting Angels
If you think you're ready to take the next step in becoming a professional caregiver, the team at Visiting Angels Wayzata would love to hear from you! If we feel you're the right fit for our team, we'll provide training, competitive pay, flexible scheduling, and bonus opportunities to ensure you have what you need for a successful career.
Our Wayzata office hires part-time and full-time caregivers to assist seniors through Minneapolis and the West and Southwest communities. If you'd like to learn more about employment opportunities with Visiting Angels, complete our application or call us at 952-935-0789.