Parkinson's Care in St. Louis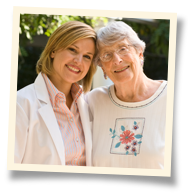 A loved one has just been diagnosed with Parkinson's disease and wants to stay at home, making the added task of their care more than your family's schedule can accommodate. Visiting Angels® St. Louis can help you with a personalized in-home Parkinson's care program, so your loved one can get the care they need to stay safely, securely at home.
We know Parkinson's disease has progressive symptoms and your loved one's needs may change from time to time. To help to eliminate the worry and stress of these changing needs, our Parkinson's care program changes as their needs change. Visiting Angels St. Louis has non-medical care programs, services, and professional caregivers that are flexible, just let us know and we can adapt as needed.
Our Approach to Parkinson's Care Services in St. Louis
At Visiting Angels St. Louis, our approach to taking care of your loved one with Parkinson's is more than a job, it's a commitment and our caregivers show it through their compassion, dedication, loyalty, and caring for your loved one. Your loved one will feel at ease and comforted knowing their caregiver is there when they need them and you will too!
Routine and consistency is important to everyone, especially your loved one with Parkinson's. Our caregivers understand the need for routine and can help your loved one to sustain and maintain their daily routines while respecting their need for assistance. Perhaps they are beginning to struggle with getting bathed and dressed in the morning. Our caregivers can help make this routine less frustrating by helping them to get bathed, dressed, and groomed to meet the day. This assistance is done in a respectful, dignified, manner allowing them to stay in control, while getting the help they need. Our caregivers can help with other daily activities and routines such as transportation assistance, meal planning and preparation, medication and exercise therapy reminders, shopping, errands, light house keeping, and more. From temporary and part or full time to weekend and respite care, Visiting Angels St. Louis can be as flexible as you need us to be.
Call Today for Your Free In-Home Consultation
The familiar saying, "There's no place like home," cannot be more true when it comes to keeping your loved one with Parkinson's at home. The locally owned and operated professionals at our local St. Louis in-home care agency, provide Parkinson's care services to the families of St. Louis and to the surrounding communities of Brentwood, Kirkwood, and Webster Groves.
With one phone call to Visiting Angels St. Louis, you can schedule your free in-home appointment and consultation to learn how we can keep your loved one happy and independent and give you peace of mind when you're not there. Call today!