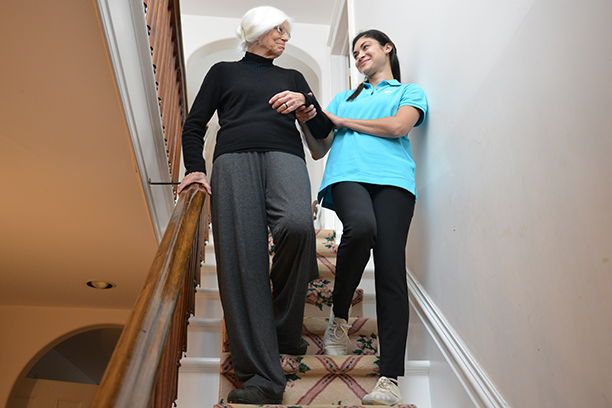 Respite Care
Caring for an aging loved one can be a huge full-time responsibility, especially when you have other family, work, and personal obligations that command your attention. What happens when you need to run important errands, go to a business meeting at the office, take a vacation, or need a breather?
If you are one of 40+ million Americans providing unpaid elder care, you understand the issues and challenges of being a primary caregiver. Thankfully, a professional resource is available to assist you.
Respite care from a reputable home care agency can lend a helping hand when you cannot be with your senior loved one for a brief time.
What is Respite Care?
Respite care is short-term or temporary home care that provides much-needed relief or a break from a primary caregiver's duties. Respite care helps families and primary caregivers who may need to leave briefly to work outside the home, take care of personal tasks, or manage other responsibilities.
Flexibility is one of the most significant benefits of respite care. You can usually schedule services for a few hours or overnight to a few days or longer. Professional caregivers can also perform in-home assistance routinely on a weekly, biweekly, or monthly basis.
You'll also gain peace of mind knowing your loved one is in capable and experienced hands—even for a short time.
Respite Care Services
Visiting Angels realizes the positive difference short-term senior care can make. Professional and dedicated caregivers will take a flexible approach in planning and scheduling services to ensure you and your loved one receive the respite care you need.
In-home respite care from Visiting Angels can include a wide range of services, including companion care and personal care. Some of the most common tasks performed include:
Laundry
Light housekeeping
Meal preparation
Medication reminders
Assistance with activities of daily living (such as dressing, grooming, and bathing)
If your loved one requires specialized care, such as Alzheimer's care and dementia care, Visiting Angels' professional caregivers with expertise in these areas will provide support.
Visiting Angels' respite care can also help reduce your risk of caregiver burnout without compromising the quality of in-home support your loved one receives.
What Is Caregiver Burnout?
If you provide care for a loved one without professional assistance, you may be at high risk of physical and mental exhaustion, often referred to as "caregiver burnout." Symptoms of caregiver burnout include:
Lack of motivation
Inability to keep appointments or manage responsibilities
Withdrawal from people and activities you used to enjoy
Difficulty sleeping
Unhealthy coping behaviors, such as drug or alcohol use, overeating, or not eating enough
Feeling irritable, stressed, exhausted, or isolated
Resentment toward your caregiving duties or your loved one
In-home respite care can substantially reduce your risk of burnout and make caring for your loved one more manageable. If you need to rest and recuperate, Visiting Angels can provide services while you focus on your well-being. If your daily or weekly caregiving routine has become overwhelming, Visiting Angels can perform regular respite visits to reduce your workload.
Get Started With Respite Care
Contact your local Visiting Angels' home care location to request more information. A Visiting Angels' care coordinator will provide you with a free, no-obligation home care consultation to discover and determine the services you need. The care coordinator will also answer any questions you have about Visiting Angels.
You can contact your local Visiting Angels agency on short notice when home care is needed. A care coordinator can fast-track the planning and scheduling process and will do their best to ensure a caregiver is available for your loved one.
All Visiting Angels' caregivers are carefully screened and selected prior to placement. A care coordinator will take measures to find the right caregiver for you, whether it's on a short- or long-term basis.
Find your nearest Visiting Angels' home care agency today or CONTACT US to learn more about our services!
Serving Brook and Hancock Counties in WV and Jefferson County, OH
Visiting Angels
WEIRTON, WV
203 Three Springs Drive #3
Weirton, WV 26062
Phone: 304-214-5550