Prevent Wandering with Dementia Care Services in Wichita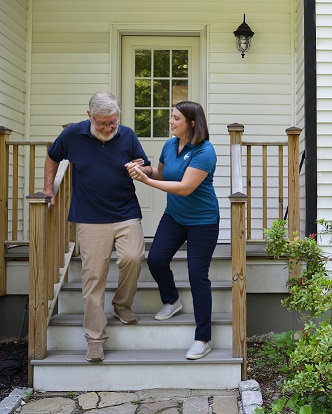 Seniors with dementia often become confused and disoriented, which then leads to wandering. This is just one of the many challenges those with the affliction can face, so it's important to be proactive and create a plan for support. With our trusted dementia care services, Visiting Angels® Wichita provides a terrific solution for local families.
Our caregivers work to improve home safety, create more comfort, and keep your loved one living in their own space. We also provide relief and respite for family care providers, along with some crucial guidance for dealing with the disorder. To get things started, we'd like to share some tips for spotting the warning signs of wandering.
Warning Signs of Wandering
To protect your loved one from the dangerous and stressful effects of their disorder, you have to learn how to anticipate their needs. Here are some indicators of the stress, confusion, and disorientation required to cause a wandering incident:
Confusion
This may manifest as confusion about the time period they are in. You may hear your loved one discuss past people, events, and life situations as if they are part of the present.


Disorientation
They may become lost or disoriented in their own home, which is a clear sign that wandering is in play. Pay attention to things like failing to find the bathroom right away or asking to 'go home' while they are there already.

Anxiety
Stress plays a big role in wandering episodes, so watch out for signs that they are nervous or scared in a public setting.
Compassionate Dementia Care Services for Wichita Area Seniors
With wandering and other memory-related issues, dementia is a lot to handle. With our help, we can make life easier for you and help you create the best possible living situation for your loved one. Living at home is a wonderful benefit for those with dementia. We are committed to helping seniors maintain their independence and privacy as they cope with their disorder.
Our in-home dementia care is provided by amazing caregivers who bring warmth, positivity, and an abundance of loving support. We hire exceptional people who must all pass our detailed background and reference screenings. As a result, you can always rely on our home care providers to treat your loved one with respect and compassion. We are thrilled to provide our services for families throughout:
To begin with our dementia care, contact Visiting Angels Wichita and arrange your no-cost care consultation today.