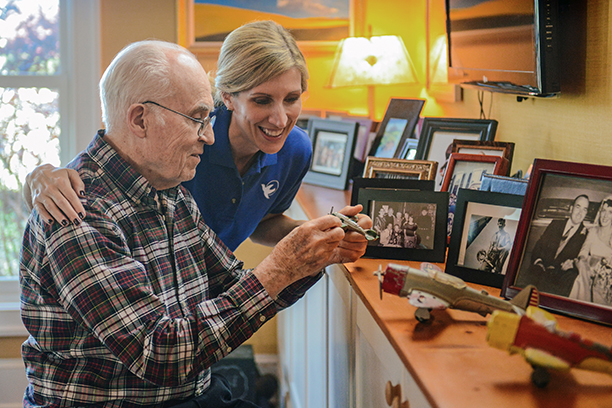 How Transitional Care in Wichita Reduces Hospital Readmissions
Ready-Set-Go Home with Transitional Care in Wichita
For seniors who are about to be discharged from the hospital, there is nothing more exciting than the prospect of going home. However, the reality is that even once they're home, they've still got a long way to go in terms of recovery. In fact, the time directly following hospital discharge is one of the riskiest for seniors.
Without adequate support, your loved one in Wichita is left open to the many pitfalls which can send a senior back to the hospital prematurely, including accidental injury and errors of judgment. Another trip to the hospital is both dangerous and costly. That's why Visiting Angels® Wichita designed our Ready-Set-Go Home transitional care program to help seniors in our community transition smoothly home and stay there.
Why Do You Need Transitional Care in Wichita?
On their own, Wichita area seniors on their way home from the hospital are prone to any number of mishaps which can lead to their re-injury and subsequent readmission. That's because, in the time after an in-hospital procedure, seniors are often weakened from time spent in bed and may be suffering from the side-effects of prescribed medications.
Without home care, recently released seniors face significant risks and challenges including:
Mistaken or missed medications
Trying to do too much, too soon
Not heading doctor's aftercare instructions
Difficulty maintaining good hygiene or nutrition
Inability to fill prescriptions or attend therapies
Our Transitional Care Services at Visiting Angels Wichita
Transitional care builds a bridge between the hospital and your loved one's home by taking a 3-pronged approach that addresses many of the major issues that can occur. Our Wichita area caregivers can start by providing auxiliary support at the hospital by advocating for your loved one and ensuring they understand the information being given to them regarding their care.
Back at home, our caregivers in Wichita can be there to provide your loved one with transitional care including meal preparation, one-on-one assistance and more so that all your relative needs to do is focus on getting well. Meanwhile, our team at Visiting Angels Wichita will work behind the scenes to coordinate the delivery of medical equipment and supplies as well as provide medication reminders so that your loved one can stay on track with their recovery.
Call Visiting Angels Wichita today to arrange for your free, in-home consultation on transitional care.
Serving Wichita and the Surrounding Areas
Visiting Angels
WICHITA, KS
5920 E Central Ave #101
Wichita, KS 67208
Phone: 316-928-2196
Fax: 316-928-2198