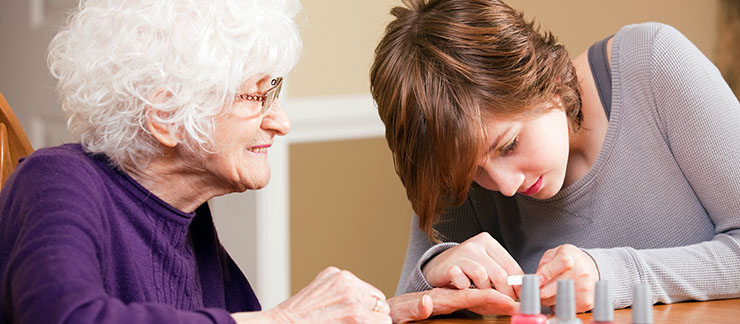 Preventive Nail Care for Seniors
Nail care is an important aspect of personal grooming for aging seniors, and unfortunately, it's often overlooked. Research has shown the health of an individual's nails can reveal signs of serious medical conditions, making it critical older adults—or a loved one— monitor the condition of their nails and make preventive care a priority.
How Do Nails Change With Age?
Just like any other part of the body, your nails change as you age. Common aging-related changes include nails becoming:
Harder and thicker
Brittle and more prone to breaking
Longer time to grow
Different in color, from translucent and shiny to yellow and opaque
More susceptible to fungal infections around the nail beds
More likely to experience complications of ingrown toenails, including infection, pain, and difficulty walking
How Can Seniors Prevent Nail Problems?
Medical, mobility, and cognitive concerns can make necessary fingernail and toenail care a lesser priority for aging seniors. However, there are a few things you can do to reduce the risk of problems, including:
Visit a podiatrist
Seniors should visit a podiatrist as part of their regular preventive care routine. It's even more important to visit a podiatrist if you or a loved one has diabetes, which can cause problems with circulation and healing as well as infections in the feet.

A podiatrist can assess overall foot health, teach proper toenail clipping techniques that reduce the risk of ingrown toenails, and trim your senior's toenails if they are unable to trim them on their own. A Visiting Angels' caregiver can assist your loved one with reminders and transportation to podiatrist appointments.
Let your feet breathe
Wearing shoes and socks around the house can indeed improve balance and stability for seniors, which reduces the risk of a fall. However, shoes and socks create a warm, moist environment that may increase the risk of developing foot fungus. Giving the feet and toenails a chance to "breathe" by exposing them to fresh air can lower the risk of fungal infections. After bathing, be sure feet and toes are dry before putting on socks, slippers, or shoes to reduce the risk of a fungal infection.
Trim nails regularly
Germs, dead skin cells, and dirt love to lurk under nails, so keeping nails trimmed may reduce the spread of germs and infection. Nails should be checked weekly and trimmed or filed as needed. If your older adult has thicker nails, trimming them after a warm bath or shower may make the nails softer and easier to cut.

If your older adult is diabetic, check with their primary care provider about nail care recommendations. Some older adults may need a podiatrist to trim their toenails. Using a nail file straight across can smooth rough spots after trimming. A file can be used alone if your older adult has thinner nails.
Eat the right nutrients
Eating a diet rich in fruits, leafy grains, lean meats, salmon, beans, eggs, nuts, and whole grains — as well as calcium and vitamin A, B, and C — can help support nail health. Your senior's podiatrist or primary care provider can recommend foods or supplements that support healthy nails, and a Visiting Angels caregiver can prepare meals that include these items.
Nail care is an important part of personal grooming. Learn how Visiting Angels can provide you or a loved one with grooming assistance or other personal care needs. Schedule a free home care consultation.