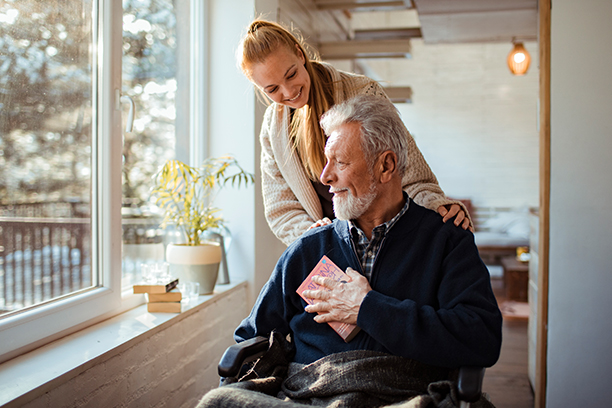 Transitional Seniorcare in Woodbridge, Milford & Cheshire, CT
Ready-Set-Go Home with Transitional Care
Senior citizens are one of the most vulnerable groups when it comes to a wide range of health risks, from slips and falls to hospital readmission. If they live alone or spend long periods without supervision, their risk is even greater. So how do you protect your loved one? The Ready-Set-Go Home transitional care program from Visiting Angels® New Haven can help. With a comprehensive, multi-approach process we help to guide seniors safely and smoothly from hospital to home.
When a senior comes home from the hospital, what stands between their speedy recovery and an untimely return? Of course, there are natural factors that can cause any pre-existing condition to worsen, but proper aftercare is the key to avoiding hospital readmission. Without it, it's easy for seniors to make preventable mistakes like missing medications, failing to adhere to their discharge orders or forgetting about follow-up appointments. Unsupervised, some seniors will try to be too active, too soon, straining themselves rather than resting. If this sounds like your loved one, quality seniorcare from Visiting Angels New Haven may be exactly what they need.
Quality Transitional Care in New Haven
From the minute they enter the hospital through to their discharge and beyond, a Visiting Angels companion can be there to provide crucial transitional care which guides them smoothly through their recovery. In addition to the quality companionship that our caregivers always supply, we also offer a variety of non-medical post-hospitalization seniorcare services including:
Ensuring medications are taken on time
Keeping seniors on track with doctor's aftercare instructions
Coordinating the delivery of meal, medical equipment or other necessities
Assisting with strenuous tasks like housekeeping or meal preparation
Helping them stay in touch with family and friends online
Monitoring their fluid intake to prevent dehydration
Schedule a Seniorcare Consultation
Whether they're on their way into the hospital, or on their way home, Visiting Angels New Haven can help to make the process as stress-free and efficient as possible for your loved one. Our skilled caregivers and helpful transitional care guide will help them to prepare for their release and thrive afterwards. Our transitional care services are available to families in New Haven, Woodbridge, Bethany, Milford, Whitneyville, Stratford, Bridgeport, Cheshire, Branford, North Haven and the surrounding communities in Connecticut.
To learn more about our Ready-Set-Go Home transitional care program, call Visiting Angels in Woodbridge, CT today.
Serving New Haven County, CT and Surrounding Communities
Visiting Angels
WOODBRIDGE, CT
264 Amity Rd #208
Woodbridge, CT 06525
Phone: 203-298-9700
Fax: 203-298-9677