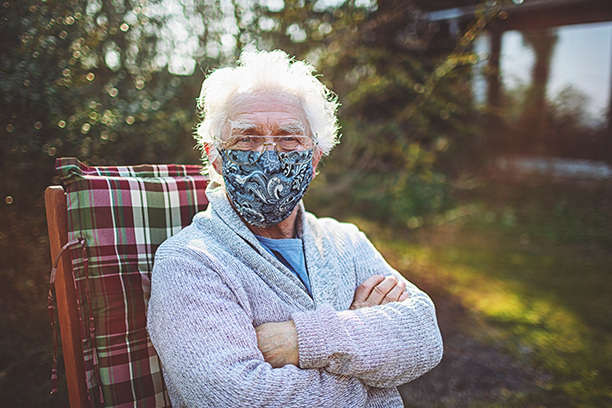 Home Care Specialists Provide Answers About Alzheimer's Disease for Families in York, Hanover, PA, and the Surrounding Area
Visiting Angels' Home Care Specialists Discuss Alzheimer's Disease in York, Hanover, Dallastown, Red Lion, and Nearby Cities
When an aging loved one is diagnosed with Alzheimer's Disease, it can be devastating to the entire family. At Visiting Angels of York, our home care specialists help families manage Alzheimer's Disease in a wide variety of ways. We are happy to answer your questions about Alzheimer's and help you navigate through this uncertain time.
What Is the Difference Between Dementia and Alzheimer's?
Dementia is a collection of cognitive problems that adversely affect memory, communication, and behavior. Alzheimer's is a type of dementia that gets worse over time.
What Are the Risk Factors for Alzheimer's Disease?
While scientists are still researching the exact cause of Alzheimer's disease, researchers have identified several risk factors. The three biggest risk factors are:
Advanced Age. In most cases, symptoms of Alzheimer's begin after the age of 65.

Genetics. Individuals with a family history of Alzheimer's are at higher risk of developing the disease.

Heart Health. Poor cardiovascular health increases risk. People with a history of hypertension, high cholesterol, diabetes, stroke, or cardiac arrest are at higher risk.
Other risk factors include sleeping problems, high stress levels, heavy smoking, heavy drinking, history of head trauma, and exposure to air pollution.
What Are the Symptoms of Alzheimer's?
Home care specialists can assist your loved one with the following challenges:
Disruptive memory loss affecting daily life

; forgetting names or recent events

Decreased ability to make decisions

or demonstrate good judgment

Decreased ability to plan

, solve problems, or concentrate

Difficulty understanding visual images

or responding to color

New or worsening problems

with language

New or worsening confusion about time and place

Difficulty completing familiar tasks

or projects that were once easy

Withdrawal from social activities

Changes in personality or mood

, fear, suspicion, irritability, or disinterest
What Are the Stages of Alzheimer's?
There are three stages of Alzheimer's Disease, but it is important to know that you can be pre-symptomatic, meaning that there are physical conditions that are related to Alzheimer's before one develops the disease. The three stages are:
Mild - Minor memory loss, difficulty learning, mood swings, difficulty communicating, and avoid unfamiliar situations

Moderate - difficulty performing daily tasks by themselves, confusion with time, unable to remember important important dates or facts, steadily becoming less independent

Severe - no longer capable of caring for themselves including feeding, bathing, dressing, and speaking, memory loss deteriorates further or is completely gone, vulnerable to other diseases and illnesses
How Does Alzheimer's Disease Progress?
Researchers believe the disease begins many years before symptoms show. Symptoms typically appear in seniors, though some cases of Alzheimer's affect people in their 40s or 50s.
At first, symptoms are mild with a minimal impact on the person's well-being. As the disease progresses, symptoms go from mild to moderate to severe. By the final stages of the disease, the person may lose all short- and long-term memory. Speaking and understanding speech might also be difficult or impossible. Eventually, performing basic personal tasks, such as using the bathroom or eating independently could be lost. Our home care specialists can help your loved one in any stage of Alzheimer's Disease.
Does Alzheimer's Disease Have a Cure?
Currently, there is no known cure for Alzheimer's; the disease's progress is believed to be irreversible. While scientists continue to search for a cure, modern treatments and clinical trials are limited to slowing the onset of the disease and reducing its progress. Doctors recommend healthy lifestyle choices. Those affected should focus on cardiovascular health, improving sleep habits, increasing omega-3 intake, and decreasing stress.
What Services Are Included in Your Alzheimer's Care Program?
If your loved one is suffering from Alzheimer's disease, our extensively trained home care specialists can help with:
Meal Preparation

Mobility Assistance

Personal Hygiene

Medication Reminders

Light Housekeeping

Wandering Prevention

Transportation to Appointments

Sundown Syndrome
Learn More About How Visiting Angels of York Can Help Seniors with Alzheimer's
To learn more about how our home care specialists can help manage Alzheimer's Disease in York, Hanover, Dallastown, Red Lion, and the surrounding areas, contact our office to request a free, in-home consultation. We will be happy to answer any questions you may have about our services and how our home care specialists can help your loved one with Alzheimer's Disease.
Serving York, Hanover, Dover, Red Lion, and the Surrounding Area
Visiting Angels
YORK, PENNSYLVANIA
1840 E Market St
York, PA 17402
Phone: 717-751-2488
Hanover 717-630-0067