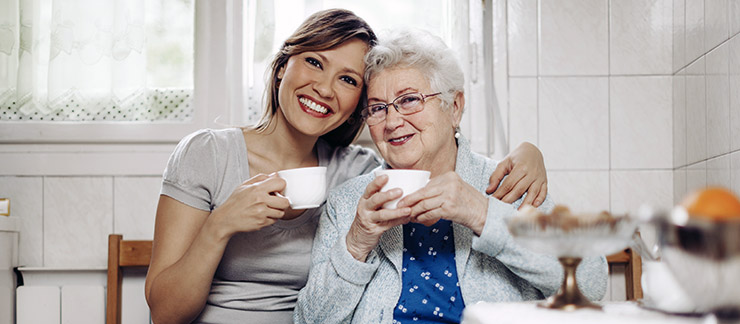 6 Ways Home Care Helps Seniors Age on Their Own Terms
As today's seniors are becoming more active and independent than ever before, families are searching for new care options beyond assisted living facilities that allow their loved ones to age in place on their own terms.
Visiting Angels provides an alternative to assisted living or nursing home facilities by giving your senior the professional assistance they need at home – the same place where they raised their family, built their career, and made cherished memories.
Visiting Angels' personalized senior care can be tailored to the unique needs of your active, engaged loved one who wants to maintain their vibrant lifestyle.
An Option for Aging in Place
An AARP survey found that nine out of 10 older adults in the U.S. prefer to remain in their homes for as long as possible. However, as people age, they may experience physical and cognitive changes that make it challenging to remain at home without help.
With the assistance of a Visiting Angels professional caregiver, older adults can receive the personal care, household help, and companionship they need to age in their homes safely and comfortably. Family members also benefit from the peace of mind that comes from knowing an experienced home care provider is by their loved one's side.
Here are a few additional ways home care promotes healthy aging:
Helping seniors remain in the comfort of home longer
With professional in-home care, older adults can remain in their homes longer — avoiding a stressful move to a nursing home facility.
Preserving independence
Visiting Angels encourages older adults to remain as independent as possible — for as long as possible — giving them the confidence and support they need to stay active and engaged in everyday activities, sports, hobbies, and personal interests.
Reducing stress
A relocation to a nursing facility—or a family member's home—can be unsettling, particularly if your loved one requires dementia care. When seniors are surrounded by their belongings and memories and follow familiar daily routines, they feel more secure, which may improve overall well-being.
Lowering costs
According to the National Center for Assisted Living, the annual median cost of an assisted living community is $54,000. Nursing facilities that provide specialized care average nearly $95,000 per year for a semi-private room and approximately $108,000 for a private room. Although the cost of in-home care varies depending on your loved one's location and care needs, choosing to age in place could save thousands of dollars each month — reducing the financial strain on your loved one and your family.
Promoting health and safety
Visiting Angels caregivers customize one-on-one assistance for your loved one's unique needs and are specially trained to spot household hazards and help with fall prevention. By remaining in the comfort of home, your loved one will also have reduced exposure to viruses that tend to circulate in nursing homes where residents live in close proximity to each other.
Avoiding isolation
According to the National Institute on Aging, research has linked social isolation and loneliness in older people to a higher risk of cognitive decline, high blood pressure, heart disease, obesity, weakened immune system, anxiety, depression, Alzheimer's disease, and even death. Routine in-home companion care can provide the social connection and engagement that lowers your loved one's risk of isolation-related physical and mental health problems while enhancing their quality of life.
To learn more about how professional in-home assistance could help your senior age in place comfortably and safely, contact your local Visiting Angels home care office to schedule a free home care consultation.