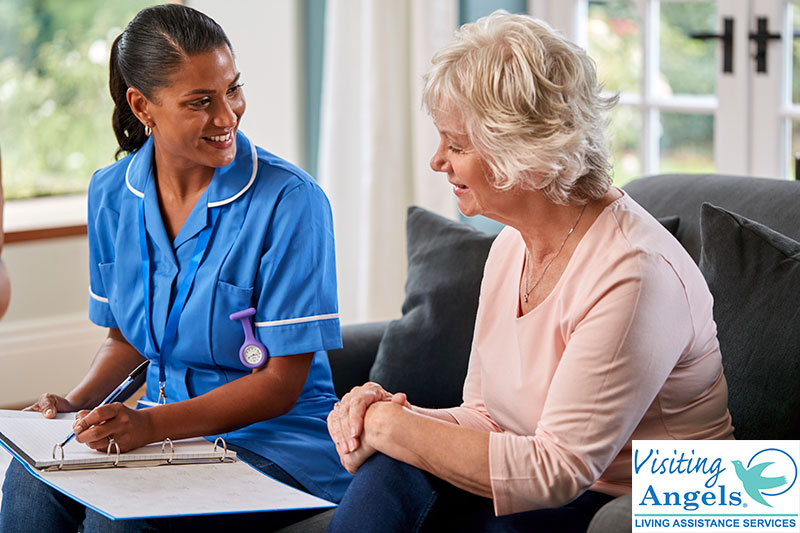 9 Useful Tips for Helping Parents Accept In-Home Care
It is frustrating for you when your senior loved one refuses to accept the idea of in-home care. When your parents get older, you want them to be cared for and safe without losing their independence. Your aged parents react to the decision to provide in-home health care with some resistance. They insist they don't need assistance with daily tasks and are still healthy enough to take care of themselves, despite their struggle. According to psychologists, family caregivers have difficulty convincing their elderly family members to accept in-home care. It can be difficult to ask your parents to get assistance around the home from caregiver professionals such as Visiting Angels.
Talk with your family first:

A divided family causes more problems. So discuss with your siblings first to determine what other family members think about your decision to provide assisted care services for your parents. Discuss different options before you discuss them with your aged parents. When you discuss ahead of time, it will help minimize disagreements. When all family members have the same concerns, it shows them that everyone wants what is best for their health and overall wellbeing. You can't focus on the main objective when your family is not unified.
Give them control:

Before discussing the idea of in-home care, you should determine the reasons for the refusal and provide substitute solutions to give them control or choice. Some unspoken concerns driving the denial are privacy and financial issues about medical conditions.
Reframe the benefits
:

Many aged parents see assisted living or in-home care as giving up, but good facilities offer peace of mind, independence, and more time to enjoy socialized life. Discuss these benefits with them and remind them how they could improve their quality of life without sacrificing freedom.
Start Small

Starting with in-home senior companion care services or light housekeeping gives them time to adjust. By doing so, your parents come to enjoy a little help at home and find that companion care services make their life easier. The kindness, respect, and warmth their companion brings them may also form a bond with your parent.
Show empathy:

Many reasons are for refraining from accepting in-home care, including wanting to remain independent. They have control over their lives, fear an unknown person, and do not want to be a burden to their younger family members or children. Show empathy and compassion to have your parents accept assistance. When they realize that you want them to be safe and your offer of in-home care is heartfelt instead of attempting to control their lives, they will be comfortable accepting your offer to help.
Be Patient
:

Patience is the key when you discuss the idea of in-home health care with your parents. Listen to your concerns and objections to this idea and find out why your parents resist accepting the assistance. For many older adults, this is not an easy or quick decision, so give them some time. It may take a few weeks or months to convince the aging parents to agree to help.
Encourage them to give in-home care a test run for a few weeks:

Senior family members are understandably hesitant to accept any change in their routine life. However, you can frame it as temporary to ease them into taking this unusual change. The 'Give it try' method is best to assure your elderly parents that it can be canceled if they don't like the change. Encourage your mom or dad to give in-home health care a test run for some weeks. When you inform them that it can be a temporary arrangement, it can ease them into acceptance. The assistance of an in-home care aide is acceptable for more aging parents when it appears to be a temporary situation. In many cases, the health care professional and the senior member of the family end up forming a bond.
Try a different approach
.

If your mother and father are still living together, suggest to them that home care would benefit their partner. Older adults may be more willing to accept in-home care for their spouses. However, if they don't live with each other, try focusing on significant concerns for older adults. For instance, your aging loved one may not want to accept help but may be agreeable to someone helping with preparing meals and reminding them to take medicine on time. They may not resist to aide helping with housekeeping. Similarly, they may acknowledge that driving at night is not their thing but still want to attend bridge games on weekends.
Please include them in all plans.
Including your older parents in plans may help motivate them to receive the home care they need. For example, if your aging loved one has not been diagnosed with dementia, it can be difficult for them to acknowledge or deal with memory loss. So helping them remember important dates eases anxiety. If there is a family event your elderly parents want to attend that is coming up, share your excitement, put it on the calendar, and talk about it more frequently.
Bottom Line:

Many adult children help their parents make big decisions about their lives. Approaching your elderly parents with empathy, patience, understanding, and respect are the best ways to establish an agreement. Some parents find it difficult to accept help from their adult children. You want what is best for them, but remember to listen to their concerns when you discuss the idea of in-home health care with them. Remember the tips mentioned above to navigate this challenging phase of life. We hope these tips will help you get your parents to accept your help.
Helping Parents Accept In-Home Care | Blog Article | Visiting Angles of York County SC | All Rights Reserved | July 24 2022.