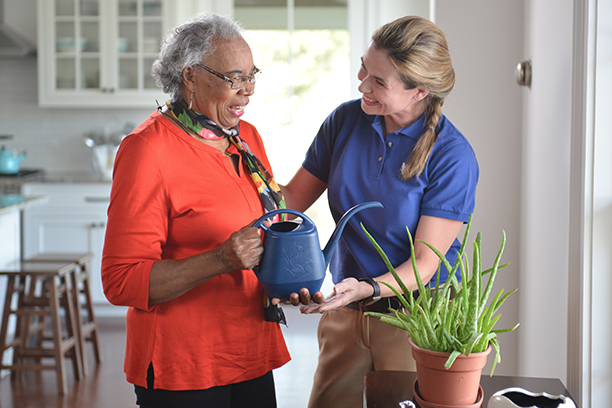 Senior Home Care in Beaver County: Our Experience
When seeking out an experienced senior home care provider, you are probably most interested in finding a care agency that can offer different forms of support for your loved one in Beaver County while remaining kind, compassionate, and respectful. At Visiting Angels® Beaver, we understand that in order to find peace of mind about your loved one's decision to age in place, you need to ensure they have access to the care they need. When you only want the best for your loved one, finding a high-quality senior home care provider is an excellent start.
As you research our local senior care agency, you will learn that our expertise is reflected in the broad spectrum of home care programs we have available and the level of customization we offer. We are prepared to deliver tailored support for seniors that they can rely on throughout their experience of aging in place. Additionally, our agency's industry experience is made clear by the quality of caregivers we hire. We have built a team of care professionals who are just as committed to helping elderly adults thrive at home as we are.
Our Success in Senior Home Care
A genuine desire to help older individuals and build relationships with them is what lays the foundation for success in the industry of senior home care. Our compassionate care philosophy and determination to help seniors age in place in Beaver County has enabled us to establish a reputation in the local community as a source of high-quality care for elderly adults.
Our community-oriented vision of care is one in which meeting seniors' unique preferences and needs is always the priority. Additionally, we are dedicated to helping family caregivers maintain their peace of mind and well-being while supporting their loved ones through difficult life chapters. These efforts have made it possible for us to promote the well-being of some of the most vulnerable members of our community.
Our Dedicated Caregivers in Beaver County
If you have a list of qualities in mind for your caregiver, kindness, compassion, and respect are likely at the top of that list. You can expect us to match your loved one with a caregiver who will treat them like family. Our senior home care providers are dedicated to uplifting the spirits of seniors and enabling them to enjoy their lives at home with confidence.
Are you ready to get started with senior home care? Call Visiting Angels Beaver today to schedule a free consultation in Beaver County, Aliquippa, Beaver Falls, Township of Hanover, Monaca, New Brighton, or a nearby community!
Serving Beaver County, PA and the Surrounding Communities
Visiting Angels
BEAVER, PA
325 Beaver St
Beaver, PA 15009
Phone: 412-366-4860
Fax: 412-367-1597
PA 64293601