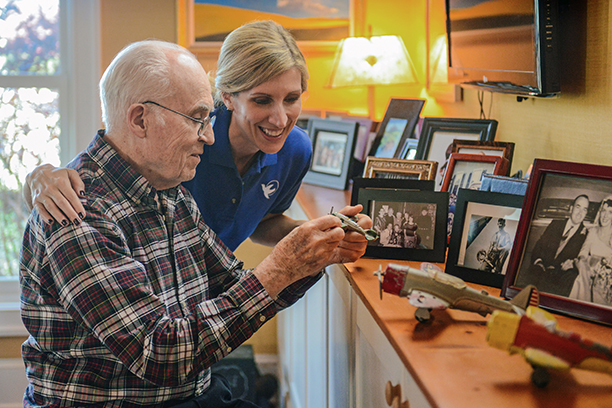 In-Home Care Referrals by Visiting Angels in Lakewood Ranch, FL
If your senior loved one in Lakewood Ranch, FL, needs additional care and support but still values their independence, count on referrals to in-home care providers from Visiting Angels Bradenton
As a professional nurse registry, we at Visiting Angels unite professional caregivers with older adults living in Lakewood Ranch, FL.
Visiting Angels is a leading non-medical home care agency serving families in Bradenton, Lakewood Ranch and surrounding areas. We pride ourselves on doing our part in connecting professional, top-of-the-line caregivers with older adults needing some assistance to live independently. We do this by providing referrals to independent caregivers. The senior caregivers we refer undergo a thorough screening process and have all the necessary certifications to provide only the best care available out there.
How We Help Older Adults in the Lakewood Ranch, FL Community
What sets Visiting Angels apart from the rest is that our caregivers are truly a part of the local community. This has a wide range of benefits. Most importantly, our caregivers truly appreciate Lakewood Ranch and understand your loved one's wish to continue living there as they age. This can be an incredible comfort to seniors who are facing a lot of pressure to move out of their home.
Another thing that truly makes us stand out from the rest is the fact that our caregivers are motivated to do their jobs and view them as more than just jobs. For our caregivers, in home care is a career. Our caregivers are passionate about caregiving and making a difference in the lives of older adults. We work with our caregivers to customize your loved one's care. This means we approach each senior as the individual that they are and tailor their care accordingly.
If your loved one needs it, we can be available and at their service 24 hours a day. We are available for overnight care, respite care, weekend care and care during the holiday season. Whatever works for your loved one, we will be there to support their vision and carry out an in home care plan that helps them remain independent for as long as they would like. Whether your loved one needs help around the house, transportation to and from The Market at Lakewood Ranch or memory care to help manage symptoms of dementia or Alzheimer's, you can rest assured that your loved one is in capable and caring hands.
We Are Locally Owned
Besides the fact that all of our caregivers are local and invested in the local community, we are as well. We are locally owned and operated. That is what makes us so invested in our vision. We care about looking after the local community because our older family members are a part of the community as well.
To find out more about us and our services, please call our Bradenton, FL office today.
Serving Bradenton, Bradenton Beach, Bayshore Gardens, Ellenton, Lakewood Ranch, Longboat Key, Palmetto, Parrish and Surrounding Areas
Visiting Angels
BRADENTON, FL
5110 26th St W
Bradenton, FL 34207
Phone: 941-758-4500
941-758-4505
Fax: 941-296-8717
NR30211771