In Home Care for Seniors in Casa Grande and surrounding areas
Visiting Angels Casa Grande's vision is to empower seniors to age gracefully in the comfort of home. We proudly provide in-home care services in Casa Grande, Maricopa, Eloy, Arizona City, Coolidge, and surrounding areas. Being able to care for the elderly residents in the Casa Grande area is truly an honor. Each time we meet with someone in their home, our hearts are filled with compassion as we hear about their remarkable lives and their daily struggles. Allow us to come alongside you and your family to provide the care needed for your loved one to thrive!
Our Approach to In Home Care
We opened Visiting Angels in Casa Grande to help families navigate the aging process with their loved ones. The care and respect we provide for each client reflects the same care we would want for our loved one. The quality of care that our amazing caregivers provide creates a safe and healthy environment for seniors while living independently and successfully in their homes. Each care plan is customized to meet your individual needs. We are here to provide support and help you through your loved one's aging process.
Visiting Angels In Home Care Services provided by our experienced, compassionate caregivers include:
In Home Care – Daily activities that allow seniors to live independently and successfully in their homes.

Personal care – Caregivers assist with personal cleanliness and hygiene while maintaining their dignity.

Companion care – Joyful conversation, puzzles, outings, etc. Companionship is often overlooked but is very important for socialization and preventing feelings of loneliness and isolation.

Respite care - Providing much-needed relief or a break from a primary caregiver's duties. Take the opportunity to get away to go to your appointments, run errands or just have time to breathe. Our caregivers can provide that peace of mind for you.
Dementia and Alzheimer's care – Offering knowledgeable support and experienced care. All caregivers are trained in dementia care. Most have cared for a loved one living with dementia.

End of life care – We are here for them; we are here for you. We come alongside you and your loved one for comfort and peace of mind during their transition.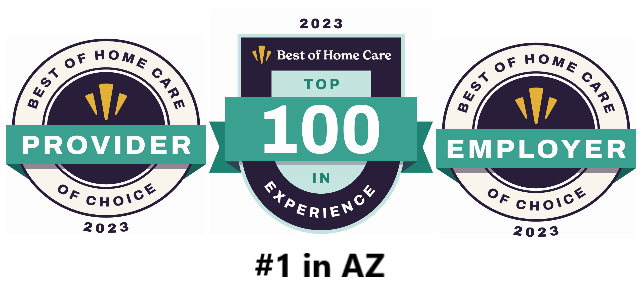 Compassionate Care is just a Call Away
The in-home care your loved one needs is just a phone call away at Visiting Angels Casa Grande. Even if you live far away, we can help you design a care plan for your loved one and give you the confidence in having a local, trusted "extension" of your care team-giving you peace of mind. We will keep you in the loop regarding their care and notify you of any concerns.
Our Commitment to the Senior Community
Our goal is to make a positive impact on our senior community as well as Casa Grande and the surrounding areas. Visiting Angels Casa Grande are members of the Casa Grande and Arizona City Chambers of Commerce. Active with the Alzheimer's Association, Casa Grande Rotary while supporting and building relationships with the community and other business owners.
We are respected and recognized as a leader in non-medical in-home care by our clients and caregivers, not only in the Casa Grande area but ranked #1 in Arizona by Home Care Pulse.