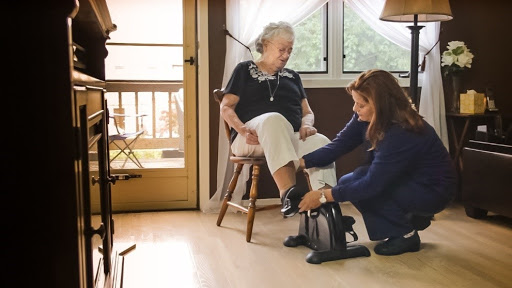 How to stop worrying when your aging parents live far away
It is challenging to realize that your parents are getting older and discovering that their health may be becoming increasingly fragile. This can be especially concerning when your parents live far away. You may find yourself tossing and turning at night, worrying about the accuracy of their reporting. Do they really feel as well as they claim?
It may have been hard, especially in the last year, to get back home to see your parents because of the pandemic. When you finally were able to visit, you may have been surprised to notice that they aged more than you expected during the quarantine. Perhaps you noticed weight loss or a decrease in the steadiness of your mom or dad's movement. Perhaps you picked up on memory lapses that have you feeling uneasy and concerned. You are in a difficult position, being so far away, but Visiting Angels Chelmsford/Burlington, Massachusetts, can help. We offer routine care and services that assist seniors in a wide variety of ways. We also keep our clients' families informed. It can be such a relief to receive consistent updates from a professional who regularly sees your loved ones and can offer accurate, up-to-date insights. Here are some of the ways we can help ease your mind.
Long-distance Care
Your parents will always be your parents. Even when you are an adult, you will probably feel them watching out for you. But who is watching out for them when you can't be there? Are mom and really dad OK? Are they truly getting what they need, or are they just trying to spare my feelings when I talk to them? Through our Long-distance Care program, we make it simple to establish quality care from a distance. Our caregivers serve as your eyes and ears and hands on the ground, in the comfort and safety of your parents' home. Then we keep you posted every step of the way. You will know how your parents are and ensure they have the resources they need. We will let you know how they are progressing, giving you peace of mind.
Stop worrying and start problem-solving. It can be such a relief to know that the seniors in your family are in good hands with Visiting Angels Chelmsford/Burlington.
Home Care Services
Our professional caregivers customize support to meet the needs of each of our clients. We offer a wide array of services and levels of care from engaging companionship to dementia support. Here are some of the services we offer:
· Help with laundry
· Light housekeeping
· Running errands
· Providing rides to appointments
· Cooking and grocery shopping
· Help with grooming and bathroom assistance
· Medication reminders
· Friendly companionship
Special Assistance
Many of our Visiting Angels Chelmsford/Burlington caregivers are specially trained to assist clients with special needs, like dementia and Alzheimer's disease. Engaging the support of a professional can be helpful to you, and it can also be extremely helpful to a family caregiver. Often, one senior will function as a family caregiver to their spouse. Doing so is a kind and generous act, but it can also be very taxing. Dementia and Alzheimer's disease can be especially difficult to manage, especially for a family caregiver who is also a senior. Inviting the help of a professional caregiver can provide relief and support, aiding the family caregiver.
Life Care Navigation
Whatever level of care the seniors in your family need, Visiting Angels Chelmsford/Burlington customizes care through our Life Care Navigation Program. We understand that needs change as we age. Unexpected issues come up. It is hard to anticipate those and to plan for them ahead of time. Our programs have been enhanced and refined over time to fortify our services as your loved ones' needs change.
If a client experiences a hospital stay, we can have a caregiver come to the hospital to help prepare a recovery plan. This ensures that the client asks the right questions about their discharge and recovery protocol. We can then help them implement those protocols at home, which can aid their recovery. We aim to help our clients avoid readmission by adhering to doctors' recovery orders; doing so with a professional caregiver can make a big difference.
Ease Your Mind
When it comes to caring for your aging parents, no matter where they live, call in your support system. Let us ease your mind. We have solutions for your concerns. Contact us online or call us at 978-244-0200.