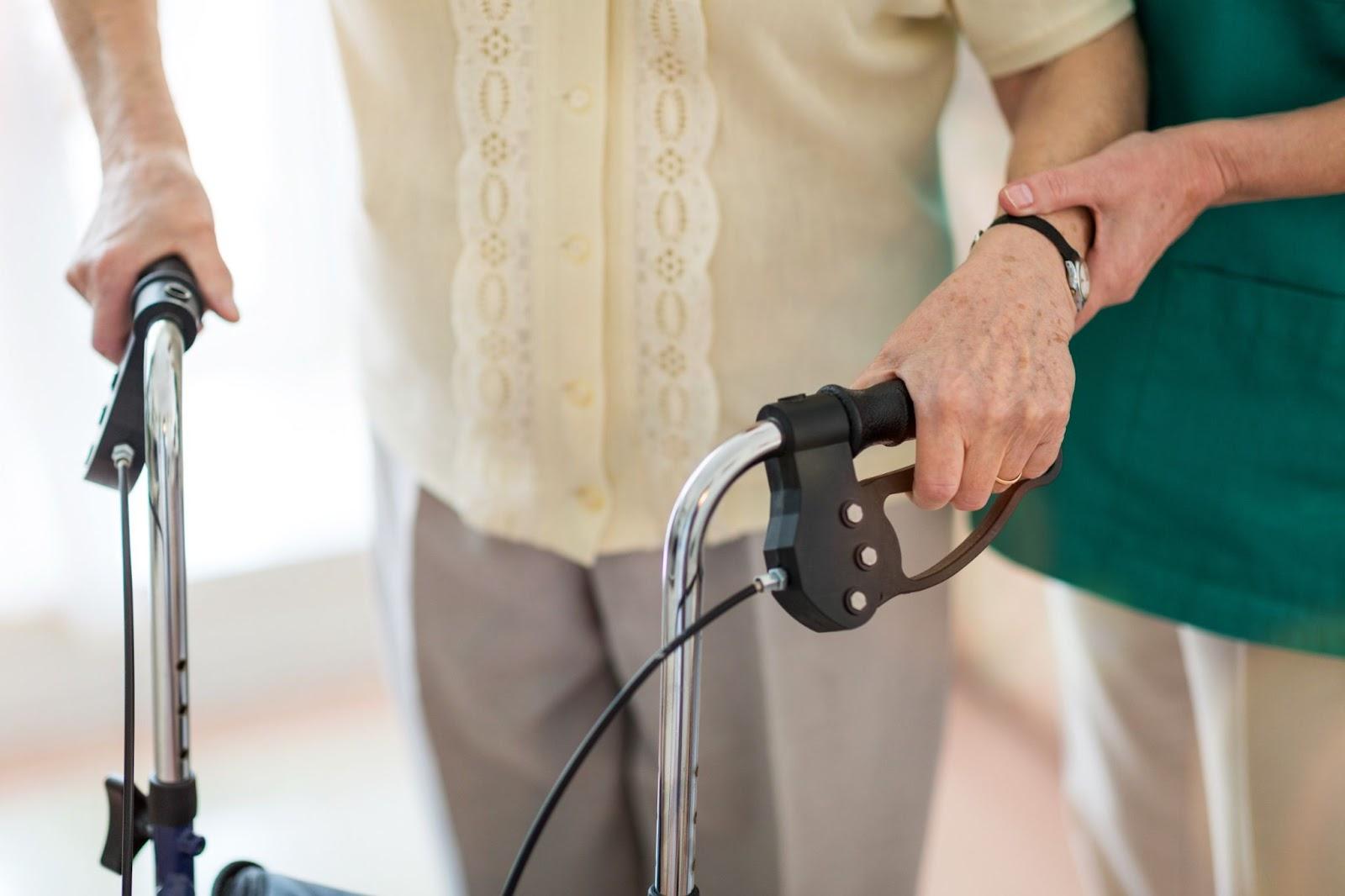 Parkinson's Awareness Month – Find Out More About This Disease Affecting the Elderly
Parkinson's disease (PD) is a neurodegenerative disease affecting the dopamine-producing neurons in the brain that causes mobility dysfunction and cognitive decline. In the US, PD is diagnosed in someone every six minutes. If your loved one has been diagnosed with Parkinson's or is showing signs of decline, call Visiting Angels of Chelmsford at (978) 244-0200 to find out more about how a professional and compassionate caregiver can help your family and your loved one.
Parkinson's is a disease that has symptoms that appear over time. Tremors, movement and balance difficulties, limb rigidity, and delayed muscle action are all symptoms that those with the disease are likely to experience as it advances. One side of the body's limbs is affected first, but as PD progresses, both sides become difficult to manage. There is no cure for the disease, and research is ongoing to help the 10 million people around the world who have PD.
Raising Awareness
Parkinson's Awareness Month was first observed in 1997 to honor the birth month of Dr. James Parkinson, who published "An Essay on the Shaking Palsy," which first described the disease. The month is an opportunity to increase awareness about the illness and its symptoms, as well as to support patients. Celebrities such as Muhammad Ali and Michael J. Fox were diagnosed with PD, and Fox is well-known as a spokesperson for those with disabilities and the Parkinson's Foundation.
Through awareness, patients can access medication and information to help as PD impacts them. The drug carbidopa-levodopa has long been shown to help stem the progression of motor system issues. Exercise can also help manage the symptoms of PD. Aerobic exercise helps build new pathways in the brain to replace those that were damaged, improving motor symptoms.
Work with the Parkinson's Foundation to Spread the Word about PD
This April, for Parkinson's Awareness Month, the Parkinson's Foundation wants everyone to take six minutes to raise Parkinson's awareness, recognizing the people in the US who are diagnosed with PD. That number means that there are 90,000 people who hear the news, "You have Parkinson's disease," every year. If your loved one is one who has heard these words, your family can help! The foundation asks for help in these ways:
Improving Access to Care
The Parkinson's Foundation's research shows that seeing a PD specialist leads to better outcomes for individuals living with Parkinson's. Family members can help raise awareness for PD care this month by making sure every person with Parkinson's has access to high-quality care.
Empower and Educate
An estimated 1.2 million people in the U.S. will be living with Parkinson's disease by 2030. Raise awareness for PD education this month so the Parkinson's community can use available resources to live better – and find answers when they need them.
Upcoming Parkinson's Awareness Events
60 Miles in April – April 2023
The Parkinson's Foundation is offering a 60 Miles in April Facebook Challenge to motivate patients by improving care and advancing research toward a cure. Hundreds of people are expected to accept the Challenge to raise funds and support the Parkinson's Foundation's mission to provide life-changing support to people living with Parkinson's. The encouragement and support of group members will help you stay motivated throughout the month of April. More than 500 individuals have created a Facebook Fundraiser page and registered for an event t-shirt. The foundation has also provided a PDF document to help you stay on track with your progress here.
Parkinson's Roadmap for Support Services (PRESS)
American Parkinson Disease Association, Massachusetts Chapter offers a virtual program called PRESS – Parkinson's Roadmap for Support Services – that begins a new session on Saturdays beginning April 15. It's a forum for those diagnosed with PD to speak with others recently diagnosed and learn more about Parkinson's resources that are available. The program was developed by the Information and Referral Center and designed for individuals diagnosed with Parkinson's five or fewer years before the beginning of the program. Sarah Singer, LICSW, leads this 8-week support group.
Optimism Walk – Sunday, May 21
Bowditch Field, 475 Union Ave, Framingham
The Optimism Walk is a nationwide movement to mobilize and inspire people to step up and put an end to Parkinson's disease. The American Parkinson Disease Association, Massachusetts Chapter puts on this fun-filled event to raise funds for research and awareness of PD. It's a short, non-competitive walk that is perfect as a family event, highlighting camaraderie, music, refreshments, local vendors, and other family-friendly activities.
As you learn more about Parkinson's, you may realize that your loved one needs more care than you and your family can supply while they age in their home. Call Visiting Angels of Chelmsford today to set up a free consultation and find out more about how we can help!