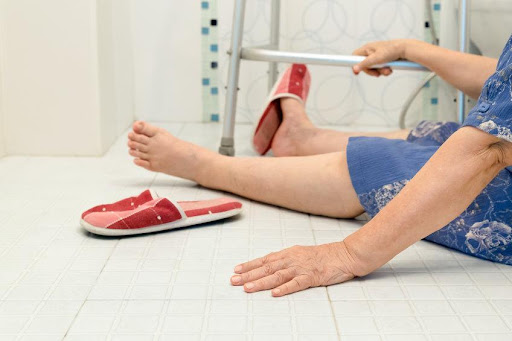 The Truth About Senior Falls
Seniors tend to fall more commonly than other adults, but that doesn't mean falling should be an expected part of aging. There are plenty of steps you can take to prevent falls and resources from educating yourself on the impact that they can have.
According to the Centers for Disease Control and Prevention, about 36 million falls are reported among older adults each year. One out of every five falls leads to an injury, including broken bones and head injuries. Debunking some common misconceptions about adult falls can help to prepare you to have a successful aging journey while steady on your feet.
"It won't happen to me."
Sometimes it's hard to put ourselves in others' shoes until the situation happens to us. About 1 in 4 adults will experience a fall in their lifetime, and it's essential to be prepared rather than overly confident.
"If I limit activity, I'll lower my chances of falling."
Staying active is one of the best things you can do for mobility, range of motion, and better motor skills. By limiting activity, it can grow harder to move at a regular pace as you're not using the muscles you need for balance and movement regularly. Regular exercise will keep you in shape and improve your reaction time to those moments that feel off balance.
"I can avoid falling if I just stay home."
Six out of every ten falls happen at home, according to the National Institute on Aging. Though your home is a familiar environment, several places can be a potential fall risk, like a slippery bathroom floor, the edge of an area rug, and any steps or stairs. Taking the time to point out these risks and adjust accordingly will help you feel confident as you move around and be prepared for any scenario.
"Medications will not affect my risk of falling."
Some medications come with side effects of dizziness and lethargy. Feeling sleepy can throw off your balance upon standing or during moments of higher activity. Be sure to talk to your doctor about the possible side effects of any new medication and take care to address if you have any dizziness upon standing. Learning to navigate these side effects will improve your chances of staying upright.
"Canes and walkers will make me a less independent walker."
A walking device can be the reason why you can move about independently. The right walker or cane can allow you to move with confidence and give peace of mind to family members who are not with you. If you are having trouble walking or need to hold on to walls and countertops as you move around, talk to your doctor about the suitable walking device for you.
"I wear glasses. My vision is just fine."
It's important to get your vision checked each year as it can change drastically in short amounts of time. Disrupted vision can cause you to feel off-balance and lose awareness of your surroundings. People with vision problems are more than twice as likely to experience a fall in their lifetime.
"Everyone knows I'm worried about falling, right?"
It is essential to speak up and make it known that falling is a concern of yours. Preventing falls is not only up to you – your doctor can make recommendations on your best course of action. Friends or family members can help you locate and adjust threats in your home that have been causing you fall-related anxiety. As such a common problem, fear of falling is nothing to be ashamed of, and you should feel comfortable speaking out about it.
Visiting Angels Chelmsford offers in-home caregivers who can provide fall prevention support, including assistance with walking, getting in and out of the home and cars, transportation to doctors' appointments and more. Caregivers are available in Billerica, Burlington, Chelmsford, Dracut, Lowell, Tewksbury, Wilmington, Winchester, Woburn, and the surrounding areas. We are ready to sit down with you and assess your specific needs in our aging journey at home. Reach out today to learn about how an in-home caregiver can improve your overall quality of life at (978) 244-0200.