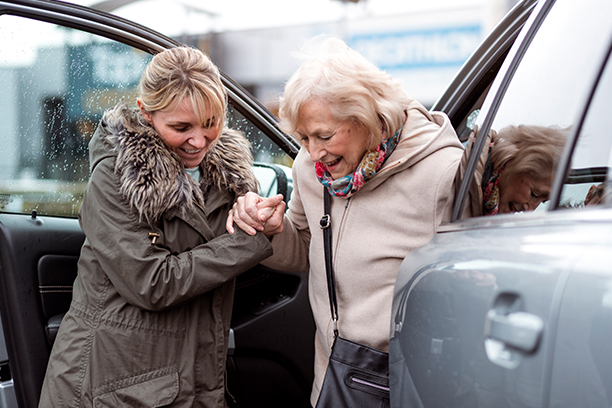 About Us
Our Background

Over the years, we've been asked "how did we become so compassionate about caregiving?" Well, it just so happens that we have first-hand experience being caregivers for seniors. And if you are wondering if it's our parents, you're correct. We have been family caregivers for our 80+ (one almost 90) year old parents for many years. With our first-hand experience, we know what families need and how they feel when an elder parent or senior loved one needs assistance as they age.
After extensive research, we purchased a Visiting Angels homecare franchise and since 2002 we have successfully served Cleveland and eastern Cuyahoga County. Many of our team members are also better able to help our clients and are sensitive to their needs because they too, provide care for a senior while they tend to the demands of their jobs. We recognize the need for family members to have much needed breaks or some respite time from the challenges of caregiving. Perhaps, most importantly, we just like helping people and want to be of service to others.
The standards, practices, and procedures in place at Visiting Angels are ingrained throughout our business because so many of us who work here, live this every day. Our commitment to you is to help you help your loved one be as independent as possible by remaining safe, and at home in the environment which is most familiar to them.
Why Select Visiting Angels in Cleveland, Ohio
First-Hand Knowledge

--- Every person in our office is a caregiver for a senior; we know what our clients are experiencing and we know how to help.

Experience

--- Our caregiver staff is very experienced. Generally, a minimum of 3-years of experience is required in order to apply.

Hiring Standards

--- We are very selective in hiring caregivers. Generally, we hire only 1 in 15 caregiver applicants.

No Call-Centers

--- An experienced representative of our company is available to speak with you 24/7/365.

Subject-Matter Expertise

--- We provide information regarding a broad spectrum of issues that our clients must face regarding the care of their elder loved ones. We also author a blog that discusses issues involving eldercare at https://www.visitingangels.com/cleveland/weekly-message

Certified Senior Advisor (CSA® ) Designation

--- We have an office specialist that holds the CSA® designation (www.visitingangels.com/cleveland/cleveland-certified-senior-advisor) , attained by passing an exam that requires demonstrated knowledge and expertise in the expansive area of eldercare issues including ethics.

Caregiver Matching

--- We believe that caregiving is about relationship between your elder and our caregiver. We take the time to meet your elder loved one in advance, and match a caregiver with them that has the best personality to build a great relationship.

Quality Assurance

--- We have earned the coveted "best-in-homecare" honor

(

www.visitingangels.com/cleveland/best-of-homecare-award

)

awarded to companies that benchmark their services against all participating homecare companies in the country. Additionally, we utilize random visits to your loved ones homes and regular calls to our clients to assure that service outcomes are matching client expectations.

No-Cost Assessments

--- We come to your loved-ones home and provide a no-cost assessment of your loved ones specific needs at your convenience.

It's Your Schedule, NOT OURS

--- We provide service specific to your loved-ones needs, no matter what day of the week or time of the day.

Our Office

--- Our spacious offices are located at Fairhill Partners, a multi-tenant non-profit that is focused on successful aging. This helps us in providing a synergistic approach to the vast and varied needs of our clients.
Our Mission Statement
Visiting Angels is committed to providing compassionate home care assistance to seniors and the older adult, while helping them to live as independently as possible in their own familiar home environment. Our primary focus is on delivering dependable and reliable service to the senior population by performing as a unified care team with the single goal of exceeding our customer's expectations.
To learn more call us today

216.231.6400




Visiting Angels in Cleveland, OH provides in-home care, senior homecare, elderly care, Alzheimer's Care, Dementia Care, Caregivers and Caregiving to the greater Cleveland, Ohio area.
Serving Ohio's Cuyahoga County and Surrounding Communities
Visiting Angels
CLEVELAND, OH
12200 Fairhill Rd 2nd Flr, B-Wing
Cleveland, OH 44120
Phone: 216-231-6400
Fax: 216-231-6341