View Job Openings
Great Environment
If you've been looking for a caregiver job that lets you give back to the community and broaden your skills, then Visiting Angels Columbus, GA is the place for you. We are seeking one-of-a-kind individuals for job opportunities with our local team. Our caregiver jobs aren't for everyone; only for those who are truly committed to providing compassionate care to those in need. We scour Columbus GA and Phenix City AL areas for people with strong backgrounds in home care or elderly care, a history of community involvement and, most of all, big hearts. That's because a caregiver position with Visiting Angels Columbus is much more than just a job, it's a chance to do some real good for families in the Columbus Area that encompasses Phenix City AL, Cusseta, Ellerslie, Hamilton, Fortson, and Columbus Georgia.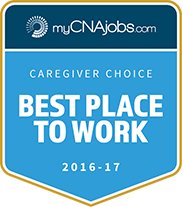 Recently Caregiver Choice Awards, sponsored by myCNAjobs and Healthcare Research, surveyed caregiver companions, home health aides and nursing aides working for home care agencies with 50 or more locations nationwide. In this poll, the Visiting Angels caring careers are ranked as the Best Place To Work.
Great Job
Those selected for a caregiver job at Visiting Angels Columbus may be asked to support their seniors with a wide range of tasks from light housekeeping to one-on-one mobility assistance.
A caregiver position with us is also an opportunity for personal growth. We offer the opportunity for advanced training in areas like dementia care or Alzheimer's care so that caregivers can continue to develop their skills.
Some of the ways our caregivers help Columbus area seniors and their families include:
Raising the spirits and confidence of homebound seniors with meaningful companionship
Protecting those with physical disabilities or impairments from preventable accidents at home
Providing much-needed relief to family caregivers who need someone to share the load with
Assisting elderly or disabled individuals with everyday tasks like washing, dressing, and meal preparation
Transporting and accompanying seniors to appointments, therapies, or on other errands
Call Visiting Angels Columbus, GA today at 706-914-3960 or view our job openings.